The name says it all!... still read this article, though.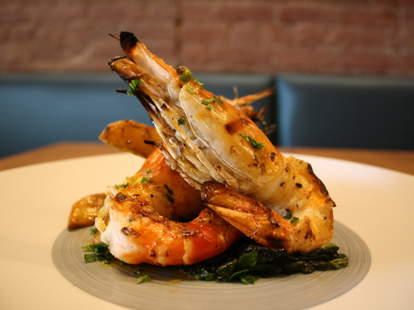 While Pasta Wine is just what unimpressed diners leave in the comment box at Olive Garden, PastaVino is a new 90-seater with "rustic architectural features" and a massive, colorful 'za oven dishing out "simple, contemporary" Italian smack dab in the middle of Pearl Street.
Whet your appetite with starters like grilled Maurizio Casareccio bread brushed with garlic/ tomato puree, DOK Dall'Ava San Daniele prosciutto paired with a potato Montasio cheese tart, and the oceanic goodness of a calamari/ bay scallops/ asparagus dish called Fritto Misto, also the taunt of an Italian guy who just skillfully dodged your flying corn chip.
Now ease into something more entree-ish -- wait, do it... slowly -- like pizza with prosciutto, roasted pear tomatoes, and shaved parm, pumpkin tortellini (made following a traditional Milano recipe), pan-roasted pork scaloppine wrapped in prosciutto, and a braised veal leg cooked in white wine.
Speaking of which, the wine list pulls mainly from the homeland and includes a whole section for biodynamics, while grape-aphobes can enjoy eight mostly craft taps (including Grand Lake's Plaid Bastard), and 'tails like a barrel-aged gin/ green chartreuse/ Luxardo concoction called The Last Word, which, given the advanced age of most people eating at Olive Garden, may well be what they leave in those comment boxes.