Give your wrist a taste of the past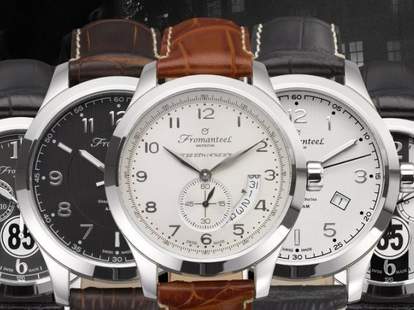 Named after a big swinging... pendulum clockmaker from 17th-century Amsterdam, Dutch Fromanteel pays homage to that old dude's "masterly technique" via seriously sophisticated watches exuding "the highest level of quality", which they're finally shipping to the land of big swinging D's: America! With dials ranging from simple to complex, each leather-strapped ticker's suited for a particular activity, such as:
Jetsetting: The Vintage1607's retro "world timer" function was developed in the early days of aviation, allowing the wearer to line up a second, 24hr dial to tell the current time in one of 24 major cities printed around the perimeter. You've finally arrived, Wladiwostok!
Physical Activity: Boasting Ronda-brand Swiss movement, the 85 Series chronograph sports three miniature dials, two on either side for the stopwatch function, and one beneath for the "Constantly Displaying The Letter 85" function.
Looking Awesome: Part of their Generations collection, the occasion-approved, sapphire-glass-cased Abraham sports little more than an ultra-refined minimalist steez and date display, something men the world over do to look like they're big swinging D's, even if they lack a pendulum.