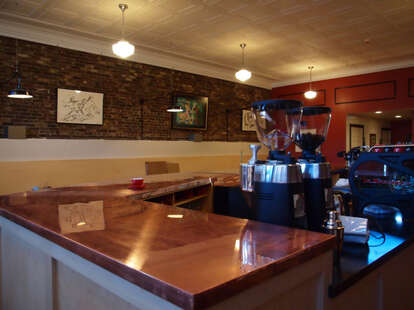 Designed as a place to "take a pause from your life" (presumably while literally pausing your Second Life), the artisan java mavens behind Arlington-based Barismo have turned a former antique auction house into dwelltime, a roomy 40-seater anchored by an elegant copper bar and rocking gooseneck streetlamps, painted tin ceiling, a communal laptop table, and giant retractable front windows that make you feel like you're outside, even though you're so f-ing not.
If you're hip enough to call coffee "java", snag one of two by-the-cup drips made with Barismo's single-estate beans (Guatemala's Buena Esperanza, Costa Rican Los Lobos, Quincy's Othaya... JK, it's from Kenya), as well as a handful of espressos, lattes, cappuccinos, almond milk hot cocoa, and -- for less hip British people -- teas. They've also got a seasonal lunch lineup that, like Tiger Woods, is kinda Asian and includes a fried green tomato grilled cheese; a crab cake/ scallion pancake number w/ pickle, radish & spicy jalapeno; and a pork belly banh mi.
Want something smaller? You're a wuss but should snag assorted baked goods (sweet scones, sticky buns, turnovers, savory biscuits) and also be informed that DT's got a cold-brew tap pouring iced coffee year-round -- perfect considering you spend nearly all your Second Life summering in Second St. Maarten.