For her eighth bday, Eve is actually giving a gift to you: take a date to a five-course dinner in the tasting room, and they'll give one of you the $120 meal for free... assuming one of you was born in April. So expect to see Ms. O'Neil's kids in there arguing for a technicality.
Recommended Video
Watch This NYC Spot Make Sausage Out of Chinese Takeout
Previous Venue
Next Venue
Venue Description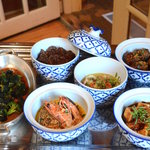 1. Restaurant Eve
110 S Pitt St, Alexandria, VA 22314
This place is great for large parties or events you might have. With banquette style seating, an elegant setting, and new American cuisine that appeals to everyone this is the place to book your private events. It's also good for a fancy date night.