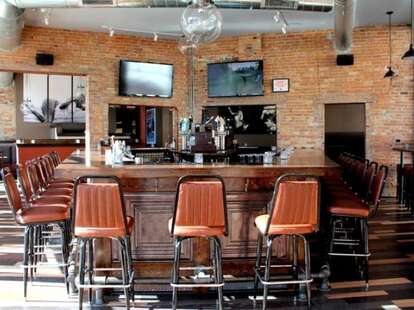 As anyone who's ever been strangled by their own transplanted dead-guy hand can tell you, seamlessly blending old and new ain't easy. Actually, those people can't tell you that, as they foolishly chose to attach a murderer's arm to their body and it killed them. But that just means more delicious bar food for you at The Point, which kept the brick structure of its 1846 pre-Fire digs intact, but updated it with hand-blown globe light fixtures, five well-placed HDs, and massive black 'n white artwork including a three-panel portrait of Marilyn Monroe, as some like it hot, but others like it kind of chubby but hot for the '50s.
Speaking of hot, you won't be after eating elevated pub starters like cheddar/Chihuahua/Cotija pork short rib nachos on house-fried chips, rubbed 'n grilled rings w/ gorgonzola sauce & Sriracha aioli, and a pastry-crusted cheese, garlic, and roasted pepper ball dubbed the Random Lake Popper, which oddly can't spice up your fishing trip with a sweaty harmonica solo. Bigger still are lobster po' boys (ironically something you can't be to afford one), cassoulet studded w/ duck confit, merguez & slab bacon, and a s'more made with a warmed chocolate bar from the Blommer factory across the street.
And because nothing goes better with Blommer chocolate from across the street than a classic Sazerac, they've got those to go along with their own concoctions like the Jalisco Limousin (anejo, Barenjager, Germain-Robin brandy & Peychaud's), plus drafts from Whole Hog Russian Imperial Stout to Smuttynose IPA, hopefully making up for the absence of Rogue Dead Guy enough to keep you from strangling someone.