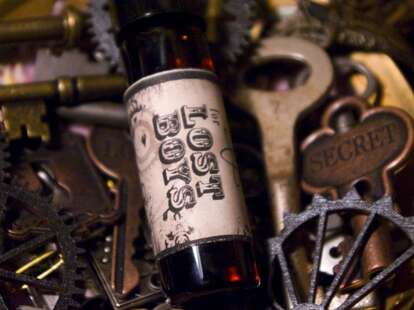 Madame Van Der Zee. She was "born to a succubus and a renegade time lord", and claims to have once worked as an assassin and bounty-hunter, which is all just soooo Austin. Now our fellow ATXian's launched Pixxxie Pie & Posie, an artisan apothecary that uses essential oils, plant absolutes, and natural botanicals to give you the scent you've always fitfully dreamed of. Your options, based on your D&D class (she's a pixie, so this makes sense):
Scent: Skeleton Key Class: The Necromancer The solid beeswax base holds the essence of clove and an exotic woody core -- even if you're not a real necromancer, it's alluring enough to raise your own bone.
Scent: Shadow Woods Class: The Hunter Wafting with Fraser fir and pine plus a hint of jasmine, it's "akin to stepping barefoot into an old-growth forest", and can help mask the fact that you're not wearing socks.
Scent: Gunslinger Class: The Marksman Notes of leather, sandalwood, and tobacco "bespeak a bold sexuality", which, as a marksman of love, is exactly what you should be... aiming for.
Scent: For Lost Boys Class: The Vampire A decadently complex musk of chocolate-spiced Colombian coffee that'll keep you up all night, and really worry your little brother when you crash out all day.
Scent: Blackwood Cello Class: The Bard Not just pioneering VJ Nina's secret talent, this hypnotic blend of Burmese wood, pine rosin, and black amber is "beset with smooth curves and an exotic dark body lovingly polished by eager hands" -- an image that, despite your newfound good-smellingness, should keep your dreams fitful.