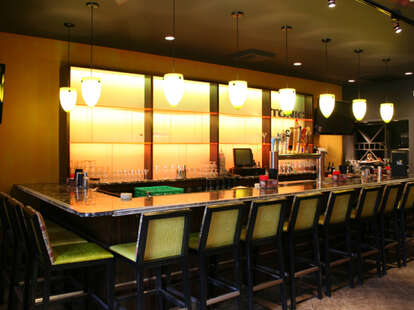 In case you were wondering where to have your baller after-party, post-Knitting & Crafting Tuesday Night Club at the Loring-Greenough House in JP, the answer is now Tonic -- an upscale French-twisting American eatery/ late-night cocktail haven (in the overhauled Griffin's Cafe) from a former resto vet and longtime JP resident, who realized that only good things ever happen when you continue to drink after midnight.
The Ambiance: Going Robert Parish strong to the hoop with an "'80s retro" vibe, this sleek 11-tabler boasts Ireland-worthy greens/ oranges, shiny chrome pendant lights etched with the image of a cityscape, and an LED-illuminated, 18-seat Brazilian marble bar with stools that resemble faux alligator skin, so expect the only death roll to be done by the eyes of real alligator skin snobs.
The Sustenance: Nosh on tempura-fried pork belly, soups self-served from sake bottles, and mussels steamed in Belgian white ale, before graduating to a molasses-brined, double-thick pork chop, a signature angus burger on a Fornax bun w/ bacon mustard jam, and a grilled rib eye complemented by crumbled Stilton and potatoes that've been salted, then crushed, and now exclusively listen to "Water Runs Dry".
The Libations: Because who doesn't need a drink after riding the Orange Line dinner, quench your thirst until 2a via traditional 'tails & 'tinis, a 30-plus wine list, boozy frozen lemonade, and 10 drafts like O'Hara's Irish Stout, Kentucky Bourbon Aged Ale, and Jack D'Or from Pretty Things, aka the Tuesday Night Club ladies when you've been drinking past midnight.