Gourmet sandwiches to-go in Wallingford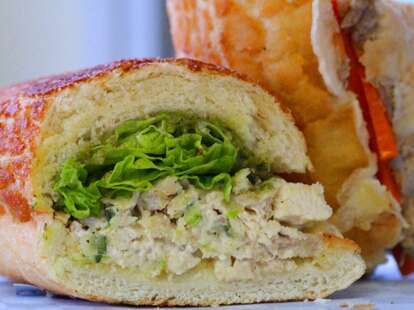 Posting up wayyy more consistently than Aziz N'Diaye everyday in the Wine World parking lot, Scratch Deli is a converted taco trailer that serves a combination of classic deli and ethnic-inspired sandwiches (w/ ingredients either made from scratch or sourced from sweet boutique food purveyors) that're constructed by a former butcher who cut his, and presumably other people's, chops at Whole Foods.
SD's old-school offerings include a cheesesteak w/ braised beef, blue cheese, caramelized onions & aioli; a pulled pork number w/ Uncle D's BBQ Sauce & greens; and a braised beef/sauerkraut/mayo/mustard-topped take on a reuben, something no record label's willing to do. Internationally flavored bread-&-meat-&-bread meals range from a Cuban, to a banh mi w/ chicken, to the oyster shroom-based Miso Mushroom, though, frankly, Mario'd rather hear the Princess follow the former with something else. Like "horny". Or "not going to race Koopa Troopa Beach because I want you to win".
They've also got sides including a bone-stock chicken noodle soup, and a potato salad made w/ the only American truffle aioli made from actual truffles, though they have no drinks, so you'll have to hit Wine World if you're N'Diaye-ing of thirst.