Get on Track: T-Mobile's 4G Fast Track Sweepstakes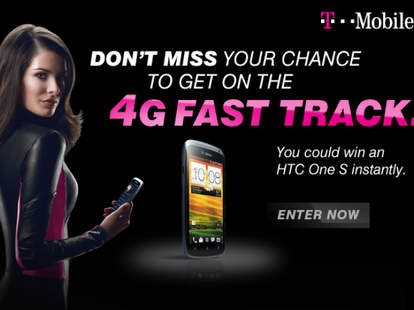 To celebrate the launch of their thinnest, sleekest smartphone ever -- the apps-loaded HTC One™ S -- T-Mobile® is serving up four weeks of swag via their 4G Fast Track, a sweepstakes whose G's don't refer to "good", "great", "grand", or even "totally g'awesome", but definitely should.
Head to T-Mobile's Facebook page for your chance at prizes like an HTC One S (which, did we mention, has seriously next-level sound technology?) with one month's service, custom-crafted Android™ figurines, and a premium subscription to Slacker's internet radio service. The 28th day's grand prize (which, if netted by a friend that you signed up for the 4G Fast Track, you're eligible to win as well) is even sweeter: an HTC One S with a year's worth of service comp'd, plus $1000 in cash, and that subscription to Slacker -- fitting for someone whose smartphone bills will be taken care of for the next 12 months.
While you sate your hunger for prizes, whet your appetite for…well, food on @ThrillistDallas' Twitter feed. Under the hashtag #4GFastTrack, our editors will be snapping photos of their most feastworthy finds using the HTC One S's proudest feature: a 960 x 540 pixel, qHD resolution camera that'll make you look so good, no one will care whether you're thin or sleek.