Subscription dress shirt club FTW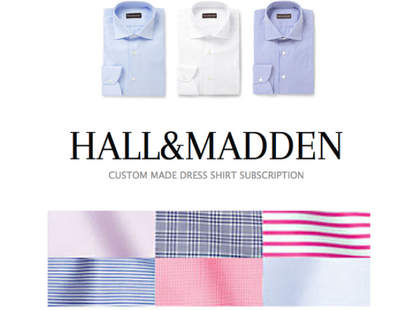 If there's any city where a subscription dress shirt company should thrive, it's DC, what with our abundant office jobs, sweat-stainingly swampy summers, and so many bottomless brunches that you don't really need multiple pairs of pants.
Enter Hall&Madden, who brought you Proper Suit, and now want to delight you every four months with a shipment of three new custom shirts, which they'll keep cheap by bundling production and bypassing wholesale/ retail consumer markup. Answer seven questions about things like height, weight, and level of baller status, then submit nine more specific measurements (arm length, neck circumference, second neck circumference if you're Newt Gingrich, etc) that you can take yourself (their video tutorial will help) or get done by home appointment.
Throw 'em a more-than-fair $150, and in a few weeks you'll receive three basic, wide-collar shirts (light blue, white, and striped). Then, on your second installment, they'll step it up by allowing you full customization: choose from famous European fabrics (like Albini and Thomas Mason), each w/ tons of colors/ patterns, plus detail options (collar & cuff type, pocketing), contrast stitching, and "single needle construction", as opposed to single needle destruction, which Jared Leto can tell you all about.
After that, they'll keep reminding you to re-up every season/ charge your card accordingly, but will allow you to cancel your subscription at any point, meaning you still have all the power in the relationship, even if you don't wear the pants.