Incendiary cocktails, sudsy guns, and other instruments of malicious mischief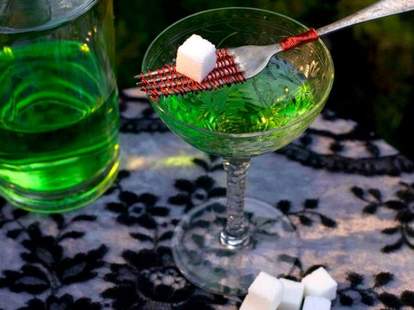 Dropping Tuesday from stripperly named non-stripper Miss Demeanor, a craft mistress who may have worked as an evil henchwoman for Carmen Sandiego, and who was actually fired by Martha Stewart after one day as a P.A., is Criminal Crafts: Outlaw Projects for Scoundrels, Cheats, and Armchair Detectives. The rough-and-tumble tome guides you through easily creating evil goods like a replica of the soap gun John Dillinger used to escape jail, a yellow-taped messenger bag resembling a crime scene, and felonious cocktails including Molotovs, which are totally the bomb.
Other highlights for lowlifes:
The Case-the-Joint Caddy, a violin case retrofitted not to hold Antonio Banderas's many guns, but to act as a traveling bar, complete with cocktail glasses, mixers, booze, and everything else you'd need to actually enjoy this month's 3675th bluegrass festival.
A prison-caliber flattened fork laced with wire for dissolving sugar cubes over absinthe, which could serve as an impromptu shank if any surly green fairies come out of the wormwoodwork.
A ransom note kit that converts a cigar box into an alphabetically ordered repository of cut-out magazine letters to paste into love letters to people who don't love you back, which's exactly why you kidnapped their pants-peeing son in the first place.
Baking directions for cooking files, phones, and other non-edibles into cakes, to pass off to prisoners (note: cooking Wentworth Miller's back tattoos into cakes slightly more difficult, and not covered here).
To celebrate the release, Demeanor's hijacking the Someday Lounge Tuesday night starting at 6p, when you can grab flaming cocktails from the book and a Criminal Crafts Barley Bock specially created by Upright Brewing. The megalomaniacal domination continues with a Friday the 13th appearance at Bridge City Comics and an April 29th workshop at Murder by the Book -- helpful information Justin Case you run into that evil Carmen Sandiego while stealing the Mason-Dixon Line.