Comforting you after the closing of Charlotte's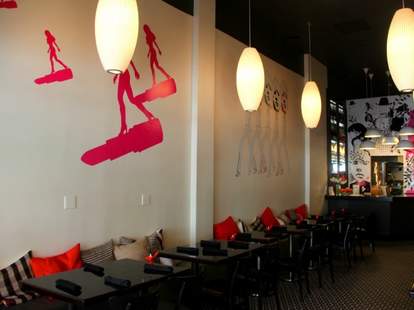 Charlotte's: it's closed again, this time for good. But that's just fine, since it means chef Elida Villarroel will be plating "stuff that's more me" (gourmet comfort food) in the space's new incarnation, Mesa. The revamp looks like it was decorated by a Brit-punk band that really loves farms, thanks to bright pink & black murals of chicks surfing on lipstick contrasted by homey rows of orange pillows adorned with chicks you wouldn't want to sleep with, because they're small chickens.Get started with shared plates like Sriracha-sauced crispy fish ravioli, merguez sausage, cobia ceviche, as well as a corn flan tamale and bay scallops, which are delicious, but don't have near the explosive flavor found in Michael Bay scallops.Heartier mains range from crab risotto and ginger apple-topped 
duck leg confit to red wine-sauced asado negro w/ horseradish potato mash, bacon-wrapped pork loin drenched in a black bean aji amarillo sauce, plus a rack of lamb, aka, the breast meat ever.In addition to necessary standards in the beer department, lining the walls are abundant bottles of vino, which they'll even be nice enough to take down and pour for you, until you're personally closed for business, hopefully not for good.