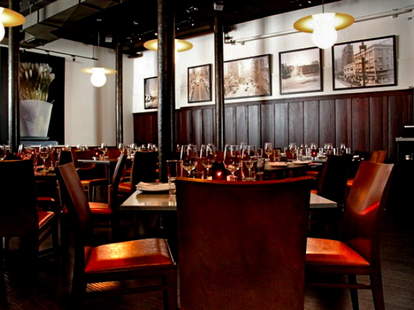 Opening today just off the Stockton Tunnel's front door, Burritt Tavern is Charlie Palmer's new imbued-in-dude den inside the Mystic Hotel, a throwback adjacent to the namesake bar w/ a 122-seat dining room wrapped in century-old natural wood, and filled with gunmetal-finished, steel-framed booths that're privatized with a close-able velvet curtain, so no one'll hear you asking your friend what "imbued" means.
Large south-facing windows illuminate stone-and-steel tables, on which you'll sacrifice on-the-large-side portions of American tavern cuisine, like oysters (in Tomales Bay chowder, on a half shell, or battered in cornmeal and baked), a cured-salmon-belly-topped warm asparagus salad w/ soft poached egg, and protein-rich mains that'll hit the meat quint-umvirate of fish, lamb, chicken, pork & steak -- holy cow!
Once your friend finally tells you that the word "imbued", while Middle English in origin, is actually pulled from the Latin word "imbutus", meaning to permeate with a feeling or quality, you'll take in walls of history-imbued photographs of the building (from the 1870s to the 1950s) while sipping on Burritt Room tipples that use housemade syrups & tinctures.
Oh, and in case you hadn't heard, there's an arcade just two doors down butted up against the face of the Stockton Tunnel -- so you can hit that, the bar, and BT with just a single (vo)cab ride.