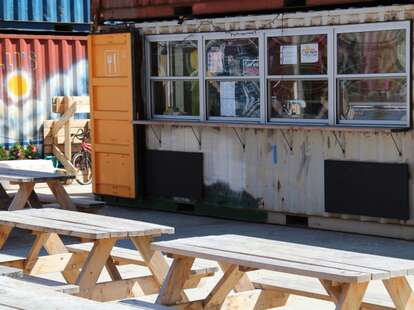 Being found in an abandoned shipping container generally means one of two things: either you're homeless, or you got caught smuggling drugs in tiny dolls by Batman. And since both of those situations probably make you want a drink, maybe it makes sense that the newly reopened Dekalb Market decided to launch a beer garden amongst their stacks of crates. Here's what you need to know
Amidst their shipping container labyrinth are a young Jennifer Connelly and David Bowie's outrageous spandex camel toe the urban farms and craft shops from before, but some new arrivals are injecting high-BAC blood to the mix, most notably a picnic-tabled center beer garden rocking cans, bottles, and, come May, drafts from local NY brews including Blue Point Toasted Lager, Sixpoint Sweet Action, and Ommegang Witte, which you'd certainly need to make a non-dirty joke about "Sweet Action"
Surrounding the garden are some new dude-pleasing food operations -- The Big Cheesesteak serves big-ass cheesesteaks, Dekalb Wings handles the pollo, and the German-style Madhouse Bakery slings artisanal sandwiches -- but perhaps most heralded is a part-timer from last year whose overwhelming success demanded its return: Mayhem & Stout, who specialize in slow-braised sandos (short rib, pork shoulder, or chicken thighs) with toppings like blueberry Sriracha, basil oil, and something called Dragon Sauce, which explains why you're afraid to step on the scale
Because any outdoor space demands a party, all sorts of happenings will be going from now 'til December, including Sunday afternoon dance parties, weekly concerts, rooftop films, lobster boils hosted by Red Hook, bike in movie nights, food competitions, and hopefully a roller derby, another collection of giant boxes that will drive you to drink.