Beer & bacon popcorn in a 130yr-old Victorian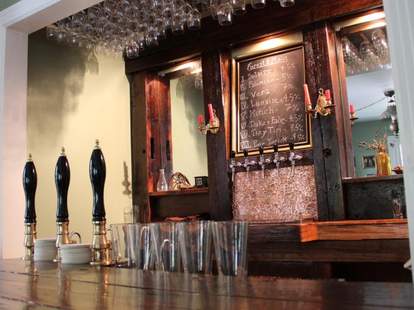 From two dudes with equally strong beer-making chops (one's a McKenzie Brewhouse vet, the other an English Brewlab study) comes Forest & Main: a new Ambler brewpub slinging artisanal bar eats and crafted-in-house British & Belgian beers within the restored confines of an 1880s Victorian-style manse hit with more hardwood than the backside of your Social Studies book in 7th grade.
The beers (three on hand pump, five on tap) showcase the co-owner's brew-pertise, from British-inspired house suds like a caramel & toffee-noted bitter (Tiny Tim) and a pitch-black, hoppy lager (Poor Yorick), to Belgian-based jawns like the Saison Solaire (w/ spelt & wild yeast) and the honey-infused Palomino, which seems right on track for Filly beer drinkers.
The food's in tasting menu mode right now (meaning bacon-seasoned popcorn, pickled veggie-packed cheese plates, and house-beer-battered fish 'n chips), but'll soon expand with items like pierogies, a house-blended thick burger, and a run of lamb-, chicken-, and beef-filled pasties, which're especially perfect while it's still nip-y outside.
In the coming months, they're planning to up the beer roster to include the farmhouse-style Mary and 10% ABV Omphalos barley wine -- too many of which'll leave you feeling like a 7th grade boner yourself.