Devilicious-ly good sandwiches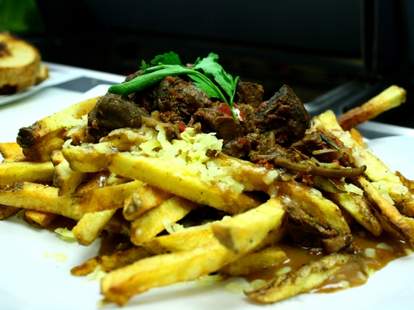 There comes a time when everyone must get off the gravy train, mostly because biscuit wheels have been proven again and again to be structurally unsound. Fortunately enough for Mira Mesa, the rule also applies to gravy trucks, as the crew behind Devilicious has gotten off theirs in order to open up Wich Addiction: a no-frills, brick 'n mortar sandwich shop conveniently close enough to Green Flash and Wet 'N Wreckless, to make sure you'll eventually end up that way.
Begin: Salads are for girls, or guys in crop tops, so put on that sassy half-shirt and mack on a fennel or panzanella green number (which can be topped w/ seared scallops, hanger steak, or crispy pork belly), or put on the other half of that shirt and get straight to business with apps like deep-fried rice balls loaded with stuff like beef stroganoff, chili, or French onions.
Be Wich'd: Sell your aunt's analog TV, then spend that hard-earned cash on classics like roasted turkey with jalapeno aioli, corned beef & Swiss with housemade bacon kraut & dill pickle aioli, or get down on a Stuffed Burger -- an Angus patty impregnated with gouda, though gouda's all "No, I'm happy for you, it's just -- how can I be sure you weren't with other cheeses when we don't even trust each other?"
Be Not Wich'd: If you aren't feeling like a big stacker, they'll cook up specialties like red-wine-braised short rib penne with grilled asparagus, or a short rib poutine with sharp cheddar, and so much gravy they simply must have loco-motives.