Something's fishy in the OC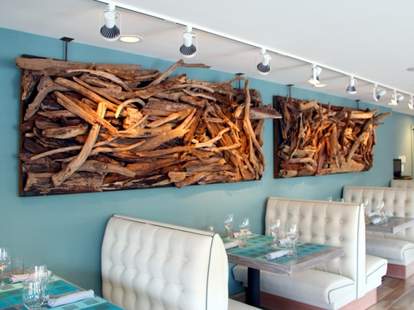 According to myth, the Norse god Odin created the first humans from piles of driftwood. Now, you can try wedging that totally useful information into a conversation at... Driftwood, soft-opening on Davis St tonight.
Co-owner Jonn Baudoin (Nikita, Ristorante Nicola) hired his wife's firm Vision 360 (Howard Wang's Uptown, and the Burj Al Arab, which would look great in Uptown, if it weren't in Dubai) to design this cozy 50-seater, where twin eight-foot sculptures made from the eponymous wood tower over a quartet of sea foam/cream booths. CIA grad & Abacus vet Omar Flores's menu kicks off with small plates of oven-roasted bone marrow (peekytoe crab, garlic confit, garbanzos, Cara Cara orange), Maine lobster rolls (gherkin, tarragon aioli, truffle potato gaufrettes), and, with "Champagne bubbles" & grapefruit mignonette, Naked Cowboy Oysters (Charles Haley: fearsome and delicious). Mains range from Ugly Pug-battered merluzza (gribiche, celeriac slaw, garlic-butter frites), to char-grilled octopus (manzanillas, fingerling potato confit, pickled onion, smoked-tomato vinaigrette), to a confit-leg/Nueske's-wrapped-loin duo of rabbit, almost as tasty as a duet of Rabbitt, i.e., Eddie and Crystal Gayle's 1982 smash, "You and I". Timeless.
Of course they play to your alco-tooth too, with cocktails (the spiced rum Hibiscus Guava Sling; the Benedictine/rye/vermouth Cocktail a la Louisiane), sakes (Otokoyama, Wakatake Daiginjo), and brews like Unibroue Ephemere, Stone Sublimely Self-Righteous, and Dogfish Midas Touch, something people will say you have with conversation, if your Norse gods tidbits always end with a pile of wood.