Lock up a super-limited spot for twice-a-month Pizza-Making Classes at Max's Coal Oven Pizza (they validate!!), which cover stuff like pizza history and wood-burning/coal-fired techniques, before giving you two included drinks and throwing you in the kitchen. In there, you'll make dough balls, toss pies, pop 'em in the oven, and have everyone rate your creation as you eat/judge theirs (note: if you're really good, Dick Vitale will come in at some point and try to dunk your pizza into a basketball hoop).
Recommended Video
This Mojito Hot Toddy Is the Destroyer of Colds
Previous Venue
Next Venue
Venue Description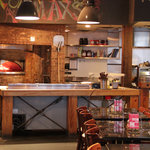 1. Max's Coal Oven Pizza
300 Marietta St NW, Atlanta, GA 30313
Max's serves 1,000-degree-charred NY-style pies and slices, from build-your-owns to the Bianca (ricotta, mozzarella, parmesan, confit garlic, & fresh basil), all boasting housemade cheese and the NY-bred chef's family recipe sauce.