The Broadway Cellars team comes to North Center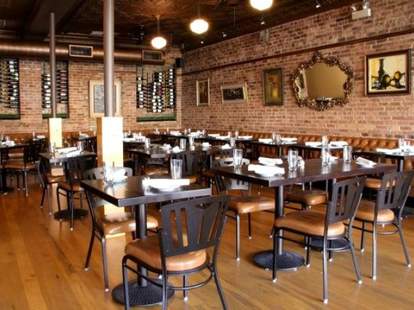 Act like you've been there before: terrible advice for serial killers lurking around a crime scene, but great advice for the Broadway Cellars team, whose new spot Southport & Irving has a "been around for years" feel what with its aged limestone & stained glass facade, exposed brick walls lined with recessed wine shelves, and tables made from North Carolina barnwood.
The chef -- a Ceres' Table vet -- starts things off with bowls of PEI moules frites in Dijon saffron broth, "The Pig in the Pantry" (platters of cured meats from prosciutto to Spanish chorizo), and Frankie's Mac 'n Cheese: a blue/cheddar combo studded w/ lardons, something Frankie should lay off if he wants to go to Hollywood as anything other than Louie Anderson's stunt double. Past that, there're signature burgers like the Hyde Park (more blue cheese, wine-poached pears, onion jam), gremolata-covered osso buco over garlic mash, duck lasagna w/ herbed ricotta 'n confit ragout, and gorgonzola gnudi w/ San Marzanos & boar sausage, much preferable to the bore sausage everyone's stuck with when you're gnudi.
Sauce-wise, the 40-strong wine list sports 16 glass pours and crafty bottles, but they'll gain tons more taps later this Summer when they expand into the building next door, hopefully not acting like they've been there before, as that's trespassing, brother!