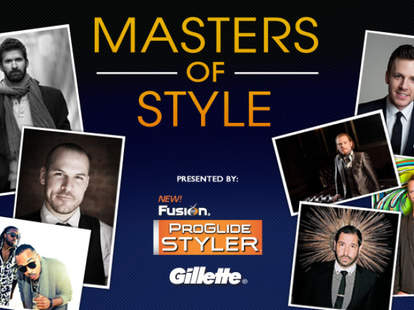 The new Gillette Fusion ProGlide Styler is not for the faint of hair. In fact, it's the first 3-in-1 precision grooming tool specifically designed for men who style their facial hair. A cunning, battery-powered beast packing everything from a Braun-engineered Power Trimmer to Gillette's best blades, the ProGlide Styler gives you complete autonomy over your best feature (sincere apologies to your calves).
The beauty of the ProGlide Styler is that it works for everyone, regardless of how you like to sculpt your man-topiary. To show off these capabilities, we've gathered together eight Masters of Style to discuss the way they trim, shave, and edge, and how that highly personal decision relates to their profession, their worldview, and their choice of vest vs. no-vest.
Click to these interviews, and you'll find everything from angularly bearded photographers shooting precariously placed models on exotic mountainsides, to musician brothers separated by grooming, but united in their love of writing songs that make models dance way too frantically to be captured on camera. So yes, just like with the Styler, there's a *lot* going on.