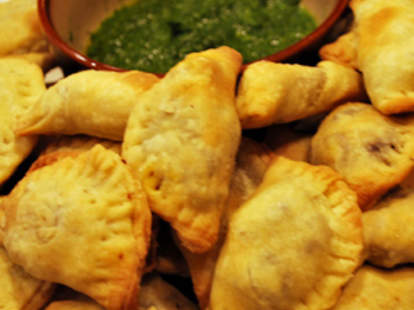 Ingredients
1 ½ lbs Yukon Potatoes, washed & cut
½ lb Brie cheese, trimmed and cut into small pieces
2 oz butter
2 chipotle peppers rom a can, chopped
1 Tbsp kosher salt
1 Tbsp black pepper
1 package frozen puff pastry
2 eggs
Instructions
Cook potatoes in water until tender enough to puree. Drain well and while still warm, place in a bowl and mix with the cheese, chipotles, and butter. Season with salt & pepper. Let cool.
Preheat oven to 350F.
Take puff pastry out of package and cut into 2"x2" squares.
Scramble eggs in a small blow. Line a baking sheet with parchment paper. Spoon about 2 Tbsp of the potato mix onto the middle of each square. Fold one and end over to make a triangle. Brush the top with the egg wash and continue with the remaining mixture. Place the finished empanadas on the parchment paper and bake for about 20 minutes or until golden brown.