Whether landlocked or sandblocked, make wherever you are totally beachin'.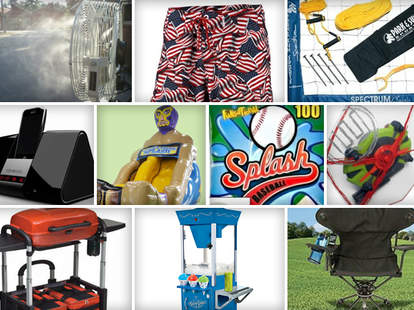 The Thrillist Bring Your Own Beach Guide's gear and gadgets bring the best of the sandy shores to wherever you are, without any of the menacing crabs or old guys wearing significantly less nylon/elastane than they should. Check
Park & Sun TS-CL Spectrum Classic Volleyball Kit:This professional-grade, all-in-one kit makes volleyball -- and the also-fun game of ensnaring people in nets before pelting them with balls -- totally portable
Cool Draft Misting Fan:This 22" godsend results in an instant lowering of temperature, an effective way to combat heat stress, and to keep your normal fan from getting too air-ogant
Columbia Sportswear Where's The Beef Board Shorts:Even if you're just standing around in your front yard, this is a great excuse to respond to "Where's the beef?" the way you've always wanted
Cinemin Slice Projector:Splash the walls with ocean views with this iPod/Phone/Pad-friendly projector, for those months when supersweetbeaches.biz is easier to access than the real thing
The Lucha Libre Splash:Sub in water for the sweet sweat of fierce competition, and this 18x27ft inflatable water slide looks an awful lot like a Mexican pro-wrestler
Baseball Shaped Water Balloons:If you toss them, they will burst -- much to the dismay of permed individuals everywhere
Mizumi Difensu 2-in1 Shield & Watergun by Carrera:This shooter comes with a built-in shield that'll give you a leg up in all water-fights -- such a valuable asset, you'll need a Slomin's Shield to protect it from envious foes
Grill2Go Ice:With a coal-burning BBQ on top and coolers on bottom, jealous hot-only grills accuse this bad boy of being two-faced.
Nostalgia Electrics' Vintage Collection Snow Cone Cart:This old-school cart's a great excuse to either make a snow cone out of your cocktail, or just relearn to appreciate vanilla ice
rEvolve Chair:This lightweight, dual cup-holder seat comes with speakers in the headrest, making for a musical chair that actually minimizes anxiety.
Max out your summer shenanigans with these recs, and whether you're in San Diego or Minnesota, you'll be making waves. And snow cones.