Thrillist's Speed Dating for Start-Ups, Presented by the Samsung Series 9 Laptop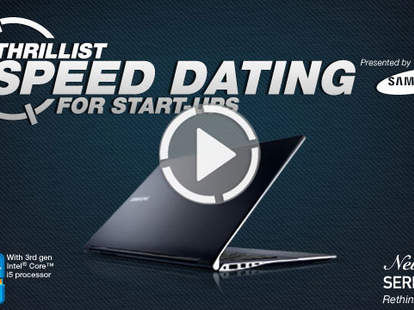 Do you have an idea for a start-up that's so brilliant, it could change the way we look at the world? Or at least the way we look at the Internet snack food industry? Then watch the video above to learn how to create a masterful elevator pitch, then submit your own pitch to Thrillist's Speed Dating for Start-Ups, presented by the Samsung Series 9 laptop. Here's how it works
1.) SUBMIT your 30-second video pitch to the link at the bottom by Friday, August 10th.
2.) Readers will then VOTE on their faves, with the top three announced on Monday, September 17th
3.) The trio of entrepreneurs with the most votes will get flown to NYC to PITCH their start-up in-person to a judging panel that will include TechStars founder and BoxGroup angel investor David Tisch, and Ben Lerer, the founder of Thrillist and Lerer Ventures: the angel fund that proved to be the most active early-stage investor in New York City Internet and mobile start-ups. In other words, these guys don't just receive pitches to hear other people talk.
As for the Grand Prize? One lucky winner will SCORE the ultimate business launch package that includes: 1.) Services from the PR mavens at MRPR, the first-class graphic designers of KinPixel, and LiftFive's social media gurus; 2.) A suite of Samsung Series 9 laptops, whose 9.1-second boot time will build their start-up in no time; and 3.) The chance to be showcased on Thrillist -- and just like that, your innovative snack food venture will be making would-be pitchmen much too large to fit into elevators.