Now restored to Golden Age glory thanks to its $50,000,000 2005 renovation (and the $40mil '80s facelift that erased its hellish-but-awesome 1970s nadir), LA's Roosevelt Hotel is equally famed for its Hollywood Royalty origins, and the belief that pretty much every actor who ever stayed there still haunts the place. But while you might know that the 85yr-old institution's Blossom Room hosted the first-ever Academy Awards -- and that Marilyn Monroe's apparition vamps inside a mirror now located in the lobby -- there are dozens amazing facts you might not be familiar with, some involving ancient Egyptian penises. No really:
1. Linda Goodman, who took astrology from the creepy back aisles to the bestseller list, wrote her insanely popular works (Sun Signs, Love Signs, pretty much all other "signs") in Suite 1207. Besides believing that "a 4 person with a well-aspected Jupiter in the natal horoscope has an excellent chance to make friends with Bigfoot" -- and that butter does not cause weight gain -- she was also firmly convinced that the phallus of the Egyptian god Osiris was buried under the Hollywood Cross. (Photo: Wikipedia)
2. In 2009, the Academy sued two companies for scalping Awards Ceremony tickets for as much as $85,000 each, or $84,995 more than tickets for that first Awards gala. Then again, $5 was a lot back then, as evidenced by how angry these guests were at host Douglas Fairbanks. (Photo: IMDB)
3. The Roosevelt's Oscar legacy is well known, but it also hosted the Razzies on numerous occasions, including 1987, when Bill Cosby's Leonard Part VI beat out Ishtar for Worst Picture, and 1993, when Stallone totally owned Worst Actor for his role in Stop! Or My Mom Will Shoot.
4. When fantastic human being Fred Durst encouraged Woodstock '99 fans to riot (as if the song "Break Stuff" wasn't clear enough), he was channeling Germs front man Darby Crash's admonition to "Do damage" during an infamously destructive 1978 Halloween gig on the hotel's mezzanine. The show also featured The Go-Go's, about whose performance a Slash magazine writer reported "They sound strong and professional, but I have absolutely no idea what their songs are about...". (Photo: Flickr)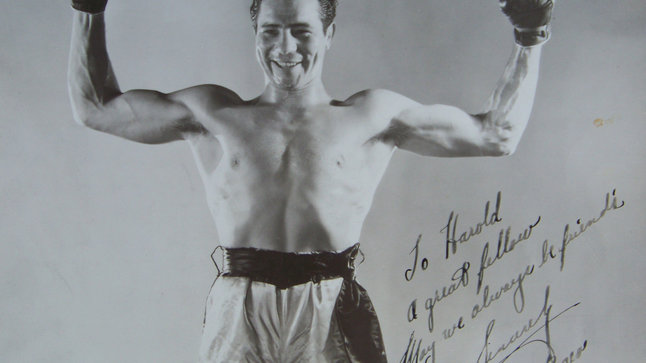 5. In 1959, the boxer Max Baer -- in real life the exact opposite of the heartless jerk-off he was portrayed as in Cinderella Man -- suffered what proved to be a fatal heart attack while shaving in his suite's bathroom. When the front desk said they were sending the house doctor immediately, Baer responded "No dummy, I need a people doctor."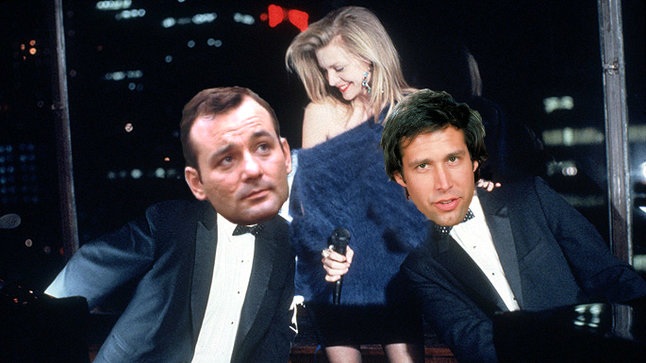 6. That Fabulous Baker Boys scene where Michelle Pfeiffer slinks through "Makin' Whoopie" on top of Jeff Bridges' piano? It was shot in the Roosevelt's Cinegrill, but those ivories were almost tickled by Chevy Chase. The studio wanted to cast him alongside Bill Murray, who of course would've loved the role of "Guy Who's Always Telling His Handsomer Brother Not to Ruin Everything by Banging So Many Hot Women".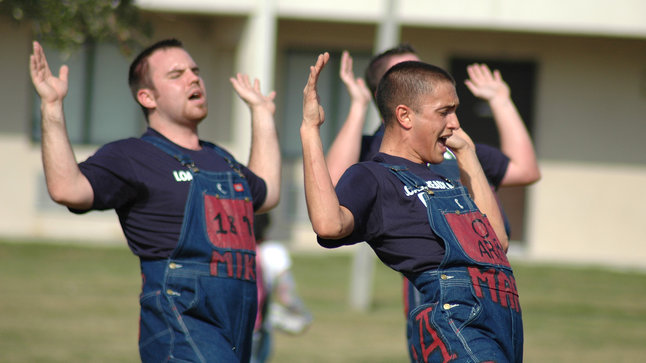 7. The real estate developer behind the Roosevelt, C.E. "Mr. Hollywood" Toberman, spent three years at Texas A&M University, where glamorous, Hollywoodish things like this happen. (Photo: Texas A&M)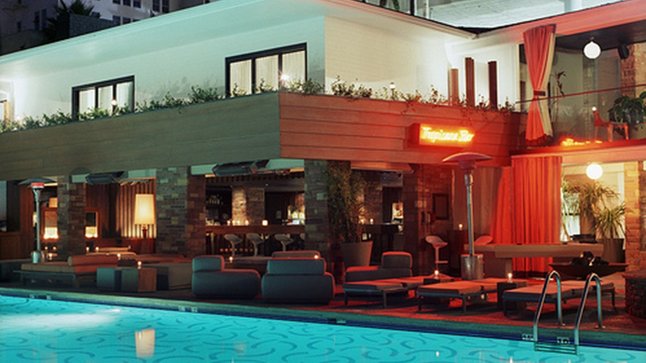 8. The mural David Hockney painted at the bottom of the Tropicana Pool in '88 caused a huge stir when county officials declared it violated state safety rules, but then-assemblyman Mike Roos secured an exemption, probably his most important legislative achievement unless you count banning assault weapons and stopping sex discrimination in California educational institutions. (Photo: Thompson Hotels)
9. Ashton Kutcher did NOT have sex with US Magazine cover girl Sara Leal at the Roosevelt. Though countless news outlets tagged Leal as the "mystery woman"/"blond mystery woman"/"blonde mystery woman" Kutcher emerged from the hotel with in late 2011, that person was actually Austin Dawn, spokesmodel for Kutcher investment LAL.com. In case you were wondering, LAL provides "Facebook-style applications that allow users to create their own daily newspapers" -- so soon everyone can misreport the identities of women Ashton Kutcher is allegedly diddling. (Actually, no, it's out of business.)
10. On the ghost front: Clark Gable and Carol Lombard are among the many undead who refuse to check out, probably because they're still getting their $5 nightly rate on a 3200sqft penthouse that now runs many $1000s per. Arizona's Oatman Hotel claims the couple also haunts its halls, which caused the good folks at CaroleLombard.org to post a story called "Liar Liar: Oatman Hotel is on Fire!". So, you know, don't f*** with CaroleLombard.org. (Photo: RoadSideVisions.com)
11. Margaret Hamilton lived at the Roosevelt for a time. Though the actress that played "The Wicked Witch of the West" is less celebrated than some of the hotel's other guests, this could explain all those damned hauntings. (Photo: Warner Bros.)