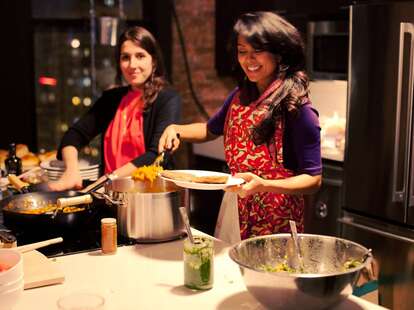 Unlike/much like couchsurfing (depending on your experience), Kitchensurfing involves a crapload of knives. That's mainly because it connects chefs with people who want said chefs to come into their homes and do everything from cook them delicious meals to teach them how to make delicious meals themselves, in keeping with the old adage "if you give a man a fish, he'll eat for a day, but if you teach a man to fish, he still has to learn how to cook it, so he should probably use Kitchensurfing.
Run by a team that includes one of the owners of BK fave Rucola, KS has recruited an impressive roster of hundreds of moderately priced, not-moderately experienced chefs (who've done time at places like Pies n' Thighs, Ma Peche, Jean-Georges, and Nobu) who will cook, teach, and even deliver basically whatever food you want. A sampling of their offerings
A football loving world-traveler will stop by to whip up a gameday meal featuring "the best Korean fried chicken you've ever had", short rib wontons, and nuanced opinions on the inanity of the wildcat offense.
A Dixon's Farmstand butcher will show you how to do a perfect steak without a grill (note: exceptions made for Paul Wall).
What's better than a chef teaching you how to make the "bright, bold flavors of Cambodia" in their own tricked-out kitchen? A "supermodel quality" chef teaching you how to make the bright, bold flavors of Cambodia in their own tricked-out kitchen.
And conveniently, everything's searchable by cuisine, price, and "specialties" like kosher, gluten-free, and "can work with limited kitchen", which is basically a prerequisite for couchsurfing.