What retirement holds in store for some of today's biggest NFL stars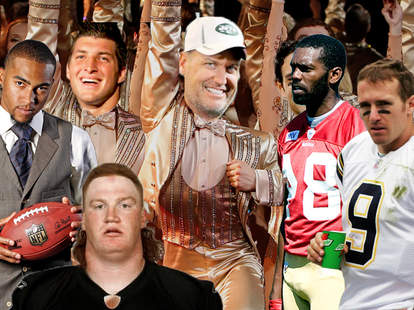 When the sun sets on a NFL-ers career, there are plenty of well-beaten paths he can follow: become a commentator, open a sports bar, sell feminine products -- you know, the usual. But plenty opt for more creative endeavors. Purple-People-Eater Alan Page is a Minnesota Supreme Court Justice. David Klinger is an Old Testament professor at Dallas Theological Seminary. Then there's Bob Golic, whose early '90s morning television stardom is proof that God is indeed good, and thinks long, curly mullets are truly badass. With all this in mind, here's where some of today's greats could wind up:
JAY CUTLERCurrent Occupation: Quarterback, Chicago BearsSecond Career: Bodybuilder
Jay Cutler don't care that his leadership deficiencies have causes his linemen to hate him and Chris Chelios to burn his jersey, because Jay Cutler secretly knows that in 5-7 years he'll be excelling in a competitive platform better suited to his pumped up sense of individuality. That's right: Jay Cutler is going to become…4-time Mr. Olympia Champion…Jay Cutler.
DAVID AKERSCurrent Occupation: Placekicker, San Francisco 49ersSecond Career: The Next Queen of Rock 'N' Roll
Just like Tina Turner, Akers is an old person with incredible legs. Or at least leg.
DREW BREESCurrent Occupation: Quarterback, New Orleans SaintsSecond Career: The Second Coming of Tony Robbins Much like the advice-slinging titan, Brees knows what it's like to overcome adversity, sell millions of books about overcoming adversity, and make on-screen cameos that help over-eaters overcome adversity (Brees was on Biggest Loser, Robbins did Shallow Hal).
RUSSELL WILSONCurrent Occupation: Quarterback, Seattle SeahawksSecond Career: Undersized Hollywood Manager with a Heart of Gold Everyone assumed that relatively tiny Russell Wilson would be overwhelmed by the NFL, just like they assumed actually pint-sized "E" from Entourage (Wilson's favorite show) would be overwhelmed by, like, Jamie-Lynn Sigler or something. Also, while Russell Wilson legendarily drove the 17 hours from Richmond to Madison just to pick up a playbook early, E once sat 17 hours in LA traffic to pick up a script that was probably way less entertaining than that playbook.
CHRIS KLUWECurrent Occupation: Punter, Minnesota VikingsSecond Career: Law Clerk for Forseti, Norse God of Justice He's definitely not afraid to defy and hilariously insult the powerful for the sake of egalitarianism, and he's a Viking, which seems pretty Norse. He's also already familiar with the realm of the mystical, in that he plays a ton of World of Warcraft using the character "Loate", a rogue troll. Are rogue trolls allowed to clerk in the Norse court system? Who knows, but if they aren't, Kluwe will write scathing columns until they are.
MARK SANCHEZCurrent Occupation: Quarterback, New York JetsSecond Career: Tony Award Nominee for Best Supporting Actor, Musical
We learned during the 2012 Tony Awards that the man some call "Sanchize" and others call "Flincher" earnestly loves him some musical theatre. His current predicament -- staving off a photogenic virgin from usurping the affections of gruff but well-meaning beast Rex Ryan -- is so rife with theatrical suspense, it's got Tony (Sparano) written all over it.
DeSEAN JACKSONCurrent Occupation: Wide Receiver, Philadelphia EaglesSecond Career: Disgruntled 1990s Television Diva Also surrounded by equally talented stars, Jackson's cash squabbling and generally super-pleasant personality recall a Charmed-era Shannen Doherty, whose feud with Alyssa Milano, refusal to sign a two-year contract, and personal problems (whose husband files a restraining order against them?), ironically led to her achieving the dizzying enlightenment of ultimate knowledge.
RANDY MOSSCurrent Occupation: Wide Receiver, San Francisco 49ersSecond Career: Celebrity Food Critic
Randy Moss didn't even need to taste that caterer's food before his expert palate determined that it tasted like... something Randy Moss wouldn't serve from his kitchen, that's for sure!
PAUL + PAT MCQUISTANCurrent Occupations: Offensive Linemen, Seattle Seahawks, Arizona CardinalsProjected Career Paths: Movie Stars, The Parent Trap, 2012 Imagine this: Disney wants to make an adult version of the 1998 Parent Trap remake, but after deciding that their original red-headed star was simply too much trouble they opt for these much hotter red heads, thereby saving millions of dollars in split-screen technology. This movie is going to be so good.
PHILLIP RIVERSCurrent Occupation: Quarterback, San Diego ChargersSecond Career: Reality TV Father
Already a father of six, Phillip Rivers' openly stated beliefs on "child-having" destine him for a life of patriarchal superstardom on a top-rated TLC reality show in which he attempts to teach 28 kids (and counting!) the evils of talking Phillip Rivers-like trash to Jay Cutler.