Score specially priced drinks plus a chance to win a comp'd night out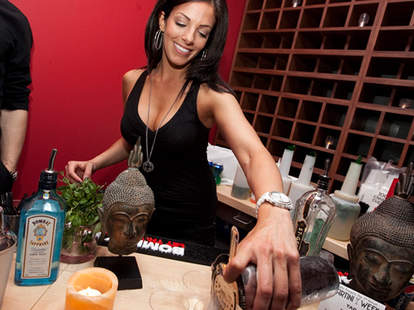 WHAT: Kick off the holiday season early with wallet-friendly martini cocktail specials at your favorite local spots, courtesy of Thrillist's Martini Cocktail Week and sponsored by BOMBAY SAPPHIRE® Gin. Fortify yourself with seven Thrillist-exclusive days of mouthwatering mixology, before the horrible holidays kick in with their travel nightmares, and their passive-aggressive family issues, and their high pressure power-shopping frenzies, and the hand-knit sweater from Aunt Trudy, and a joyous New Year rung in with soul-crushing credit card bills. Season's greetings
WHERE: Four of San Francisco's best bars, restos, and lounges. Which ones? Find out here.
WHEN: Monday, November 12th– Sunday, November 18th, 201
WHY: Because you deserve it. Plus, if you tweet your #MartiniCocktailWeekSF plans to @ThrillistSF, you'll be entered to win a $100 dinner for two at one of these participating venues -- or a $100 dinner for one, should you need to work in a strategic escape from the family this season.