Photo: flickr/yancy9, Phil Campbell, Niklas Freidwall
Once retailers have completed their expansion of the biggest shopping day of the year, every month will be Blacktember, and America will be a 100-percent consumption-based economy, which previously seemed arithmetically impossible. Until then, these apps should keep you ahead of BlackBerry users in your militant quest for deals during this 72-hour shopping day
TGI BLACK FRIDAY
Constantly tracks Black Friday ads from major retailers, alerting you in real time of new deals sortable by product, store name, and category. Other features include shopping lists, price comparison, and share functionality, so your Facebook friends won't be stuck in the excruciating position of wondering whether you got a good deal on a Rhumba.
Download the TGI Black Friday app now before they run out! (iOS, Android)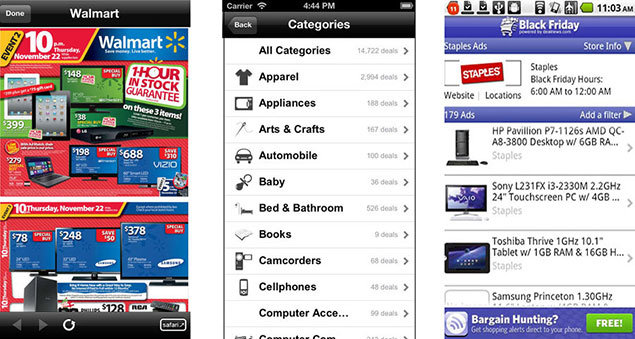 DEALNEWS BLACK FRIDAY   |   FATWALLET   |   BLACK FRIDAY SURVIVAL GUIDE
Keep the TGI Black Friday app honest with these three databases of door busters, all filterable by store, category, price range, recency, and fellow-shopper frags. Minus the fellow-shopper frags.
DealNews app (iOS, Android)
  |  
The FatWallet app (iOS only)
  |  
BFSG app (iOS only)
REDLASER
Scan a barcode and this app'll reveal comparative prices at area stores and online. Buy the item within the app and it'll be reserved for pick up at PayPal-enabled retailers.
Clothesline a soccer mom with your smartphone while downloading the RedLaser app (iOS, Android, Windows)
NEXTAG
Just like RedLaser, only it allows you to not only scan barcodes, but also take pictures or enter product info to compare prices. Set up price alerts and you can always count on something in this world to stay in contact with you. Holidays are sad!
The NexTag app is a real adore-buster! (iOS, Android)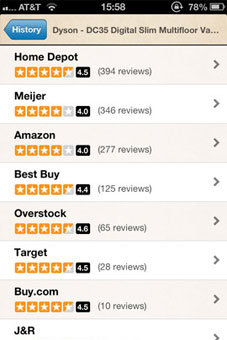 BUY OR NOT
With access to over 45 million product reviews, this app provides on-the-spot consumer ratings from online retailers like Amazon, Best Buy, and Home Depot on most anything with a scannable barcode.
Download the BuyOrNot app or not? There's probably an app for that too (iOS only)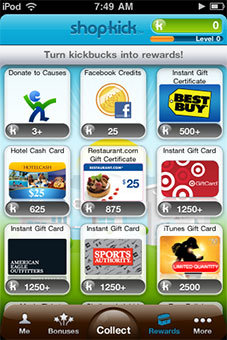 SHOPKICK
Offers info on deals and rewards you for check-ins and product scans at stores like Target, Sports Authority, and Best Buy, which earn you "kickbucks" redeemable for free stuff. Give your phone to a teenager and you'll probably rack up enough points for a Buick.
Camp out in your living room for the ShopKick app if it makes you feel better (iOS, Android)