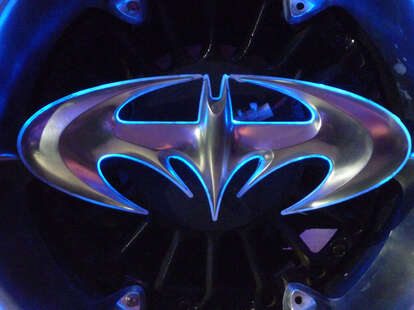 Usually, promotion for DVD releases is as pointless as a Creed cover of a Nickleback song. But when the movie in question is one of the highest-grossing of all time, you can evidently afford to do something cool, which Warner Brothers has, downtown at Los Angeles's L.A. Live
Now through December 14th at the Event Deck beside the Nokia Theater, the studio is marking the release of The Dark Knight Rises by putting all five Batmobiles from the television and movie versions of Batman on display, along with a convention hall worth of movie props, costumes, and artwork from the Dark Knight trilogy
Admission is free, if you don't count what a pain in the ass it is to go to L.A. Live. Maybe you should just look at the pictures instead
Tim Burton's Batmobile. Jeff Dunham owns it now. You know, the guy whose ventriloquist specials are always on Comedy Central when you want to watch Tosh? He drives it around L.A.
The Batmobile driven by Val Kilmer, who is widely regarded as the best Batman.
The original Batmobile from the television series.
Batsuits from the Nolan trilogy. You can still detect a faint hint of B.O. (Bale odor.)
Uniforms for the Monuments and the Rogues football teams. Suck it, Rapid City.
Every Batmobile, excepting the Clooney version for some reason, has a cloaca. Wonder how the Clooney car loopholed its virginity through Catholic school.
Clown masks from the opening bank robbery scene of The Dark Knight performing "Bohemian Rhapsody."
The Tumbler, Bale's Batmobile. Warner Brothers wouldn't green-light Batman Begins until designers could prove this car would work.
Art department model of the bridge standoff in The Dark Knight Rises. (Yes, we know this isn't how it happened, alt.nerd.obsessive newsgroup.)
Match the wheel to the movie.
The fusion reactor that formed the plot of The Dark Knight Rises.
Clooney's Batmobile, with perpetually rotating hood drill, for some reason.
Bane's costume from The Dark Knight Rises, complete with Sean Connery voice transmogrifying mask.
A gallery of bat art greets you upon arrival at the exhibit. Most of it is terrible.
Bat gadgets from the Nolan trilogy. Anyone else remember bat nunchucks?
The Bat-Pod cycle, which carried Bruce Wayne to seven Tour de Gotham victories.
The Bat Signal, complete with on/off switch.
Camouflage Batmobile, for battling the forces of Kandaharian crime lord Qasim al Jo'ker.
"The Dark Knight Rises" is available on Blu-ray Combo Pack, DVD, and download Dec. 4.