The controversial new basketball shoe with the split personality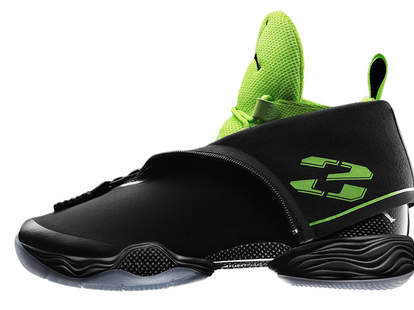 Modeled after the classic combat boot, this 28th installment in the Air Jordan umptrilogy offers two distinctive looks with a slide of its signature zipper: 1. A sleek, peeled-down modern aesthetic, and 2. A cruder, zipped-above-the-ankle basketgoth effect that has heretofore never been attempted in athletic footwear.And it's split the public similarly in two, stirring the kind of controversy that Nike was probably hoping for.Swiss Schoeller mesh ordinarily used in motorcycle jackets covers the upper, while a carbon fiber shank plate and Nike Zoom cushioning comprise the performance tech below.
It's the lightest Air Jordan ever in weight, if not in humor, and it'll be available the day after the NBA All-Star Game on February 16th. That ought to give you enough time to save the $250 it'll cost at retail.