Score a $1-off coupon to satisfy your cravings...food-related, that is.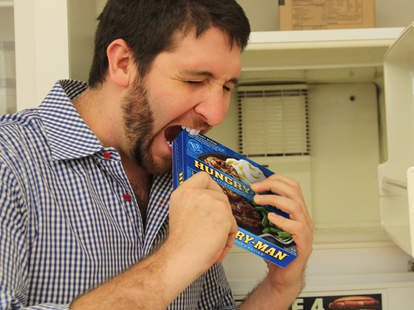 Remember those Hungry-Man® meals from your youth, those microwaveable belly-fantasies that delivered a solid pound of tasty straight to your face in mere minutes? Then why, now that you are a man, are you eating "small plates"
Seriously, not only are these grown-ass vittles still around, they're even stronger than before, with dinners, breakfasts, Power Meal™ lunches, sandwiches, and chili all creating a fantasy land where the streets are paved with golden beer-battered chicken, bourbon-slathered steak strips rain from the skies, and fresh slices of white meat turkey swim along rivers of creamy mashed potatoes & gravy
So nice. To make that dream a reality, "Like" Hungry-Man® on Facebook and score a $1-Off coupon -- or as they say in England, a solid pound.