Southwark happy hour spot Ela's latest cocktail drop features drinkables that all take inspiration from the LI band Brand New, including the burnt sugar, gin, and absinthe Jude Law And A Semester Abroad, and the tequila & rosemary Last Chance To Lose Your Keys, the drinking of which'll ironically provide you with plenty more.
Previous Venue
Next Venue
Venue Description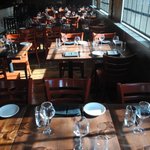 1. Ela
627 S 3rd St, Philadelphia, PA 19147 (Society Hillqueen Village)
An American restaurant directed by the steady hand of acclaimed chef Jason Chichonski, Ela serves cuisine that changes seasonally but is consistently innovative and crafted to perfection. With an extensive wine list and large collection of craft beers, something is bound to go well with your whipped foie gras.