Forget the name, this whiskey cocktail from Joseph Leonard is a star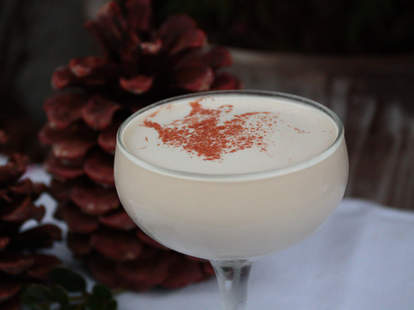 Ingredients
1.5 oz Maker's Mark
0.5 oz amaretto
2.5 oz coquito mix (see below)
Directions
For the coquito mix, blend two (12 oz.) cans evaporated milk, two (14 oz.) cans sweetened condensed milk, one (15 oz.) can coconut cream, such as Coco López, and ground cinnamon.
Combine with makers mark and amaretto.
Rinse the glass with Famous Grouse and serve in a coupe after pouring it through a fine strainer.
Garnish with Mexican canela.
Have a favorite drink recipe you'd like to share? Email it to drinks@thrillist.com