Photo: Mark Brandon In a city famed for its steakhouses, perhaps none is as famous (or authentic) as Peter Luger, which has stuffed customers with prime cuts of cattle since it opened in the shadow of the Williamsburg Bridge in 1887. And while Luger doesn't appear to have updated its decidedly un-sexy interior (faux candelabras! wall-to-wall carpets! beer hall tables!) during it's 125-year life, it has earned four-star NY Times reviews, Michelin stars, and a pantheon of celebrity frequenters including...holy sh*t, is that Andrew Dice Clay?! Photo: CityBuzz.com The Tuetonic waiters are not here to be your friend, or, apparently, even helpful, but the menu isn't complicated: man-sized slices of beefsteak tomatoes & onions covered in a tangy house steak sauce, thick-cut slabs of bacon, German fried potatoes, and their famed porterhouse: a chunk of cow doused table-side in its own rendered fat, and served on a plate with edges so hot you can further cook your steak on 'em. You can debate whether it's really the best in the city, but not that it's the most quintessential. Photo: FoieGrasChick And while many a former employee has left to open their own chophouse (Wolfgang's, Ben & Jack's, Benjamin Steak House...) none has stolen Luger's signature end-of-the-meal gift of chocolate gold coins, perhaps fearing that one last bite would make Dice Clay die faster than the laughter.
Recommended Video
This Surf-and-Turf Tartare Costs $1,000
Previous Venue
Next Venue
Venue Description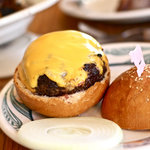 1. Peter Luger
178 Broadway, Brooklyn, NY 11211
This New York institution (opened in 1887) is specifically known for its old-school, impeccable waitstaff and its sizzling, perfectly cooked, buttery porterhouse. The wine list sticks to a strict but to-the-point number of options that pair perfectly with the dishes, and the lunchtime hamburger -- a mix of ground chuck and trimmings from the aged steaks -- is simply something you can't get anywhere else.