An editor's guide to drinking around town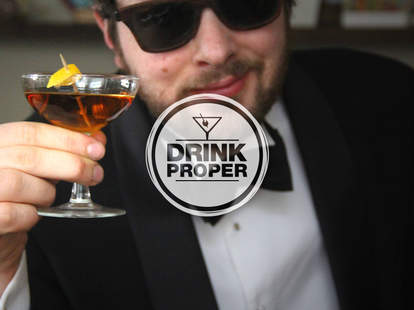 After two millennia of standing outside pubs eating crisps being the main form of drinking, London has become an explosion of craft brewing, molecular cocktails, and local wine. Enter Thrillist editor Jason Allen, who's gone through the dreadful task of enjoying himself every night, just to put together this guide to the best drinkeries.
Best Club: Gotta be Fabric. It's an oldie but a goodie, and's appropriately located opposite a literal meat market.

Best for Work: Bob Bob Ricard, for the sole reason that there's a button in each booth that says "Press for Champagne". No way that doesn't impress your boss. Or go on your expense account

Best for Partying: When a place is actually called Birthdays, you know it's good for partying. Plus, there's a place upstairs where you can get a dozen margaritas and ox-heart tacos! Also, it's in Dalston, and that entire neighborhood's good for partying.

Best Drink: Damn if it's not a Mr. Hyde's at Purl -- a corked bottle filled with 23yo rum & applewood smoke that comes in a bucket of dry ice, and tastes like Kate Upton's lips

Best Cocktail Bar: 69 Colebrooke Row. The original spot from Tony Conigliaro (aka, the "Heston Blumenthal of cocktails") literally has a separate laboratory with sexy lab girls nearby where the drinks are designed

Best Wine Bar: Gordon's on The Strand. It's the oldest in London, and it's all underground -- literally, it's in a cave -- with low-slung ceilings and candles for light

Best Beer Bar: The Craft Beer Co has the biggest selection of barley-pops in the UK, which makes it kind of difficult to beat as far as beer bars go. Or bars in general. It also doesn't hurt that it's super nice

Best Local Beer: We didn't invade the sh*t out of Scotland so that we could count them as not being local, so I'm saying Brewdog's whiskey-cask-aged Paradox

Best Brewery: London Fields, definitely. They were at the vanguard of the London craft scene, and they frequently organize a p*ss up at the brewery

Best Local Hang: Freud is one of my favourite bars in London -- it's underground, they serve cocktails by the pint, and when you show up it'll likely be rammed, yet you'll somehow find yourself with a seat within 10mins. Promise

Best Place to Day Drink: Literally any pub anywhere

Best Outdoor Spot: The Ship. Its garden looks out onto the Thames, so you can watch the boats go by, and taunt them with your refreshing pint

Hottest Girls: It's no secret that money = hot ladies, and not only is The Long Bar in a five-star hotel, but it's also -- get this -- really, really long, which means the odds are totally in your favour

Easiest Place to Get Laid: Put it this way: the girls at Mahiki are not looking to have a really hot, sweaty conversation with you.