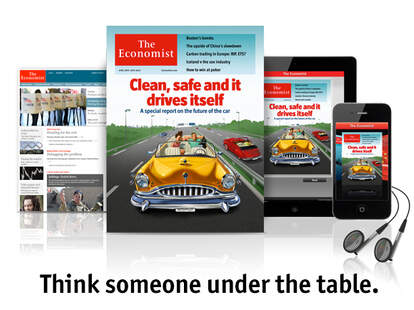 There are approximately 6,600 magazine titles in the US; approximately 60% are lifestyle magazines, 30% are fitness magazines, and 9% are about celebrity dogs -- but The Economist stands in a class all on its own.Now, you can get your first 12 weeks of The Economist for only $15, arming you with the most comprehensive and insightful news coverage in the world, while also saving enough dinero to travel to some of the exotic places it covers. Where else are you going to find stories as varied and occasionally bizarre as:
90% of all adoptions in Japan are adult adoptions because business leaders need sons to assume leadership positions.
Last year, on average, more than one beer brewery opened every day.
Outside the board of governors' boardroom at the Federal Reserve, there hangs a painting called "Barrels of Money" -- what else did you expect?
Locking down all of that info with a savings of 84%? You don't need to be an economist to know that that's a good deal.