Bangkok Station
With a train depot-like design full of stained wood and metal, Bangkok Station serves Thai cuisine like it's a meeting place between the various regions of Thailand. Starters include sun-dried sweet soy beef jerky. Full dishes range from whole deep-fried red snapper to baked curry lobster, and its own versions of Thai standards like drunken noodles. Wash those down with cocktails like the gin/kaffir lime/basil/tonic BKK Fizz, which unlike B2K Fizz, still brings more than a lil' buzz.
Recommended Video
This Giant Banh Mi Weighs 4 Pounds
Venkman's
Three amazing fellows -- two of whom also happen to be Yacht Rock Revue frontmen Peter Olson and Nicholas Niespodziani, and another of whom happens to be esteemed New Orleans native Chef Nick Melvin -- done clicked up and opened a "creative comfort food"-slash-concert hall for eclectic live music, and the drinks that go with both. Oh, and it has the name of everybody's favorite Ghostbuster. Why aren't you there yet?
Tavernpointe
Sitting between SoBu and Midtown, with offerings that "sit in the middle of a neighborhood pub and a high-end restaurant," Tavernpointe wants you to sit your ass down for smoked Peruvian-style chicken, broiled lobster scampi, grilled Wagyu skirt steak, and more from Chef Drew Van Leuvan of Seven Lamps. Meanwhile, mixologist Madison Burch (Ecco, Veni Vidi Vici, etc.) wants you to drink 16 draft beers (including locals like Orpheus Atalanta tart plum saison), draft cocktails like the blueberry julep (made with Chattanooga whiskey), and a gang of fresh/classic cocktails worth sloshing.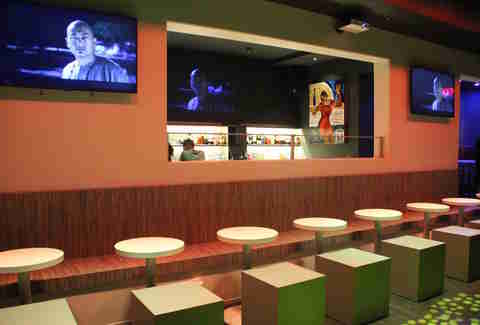 M Bar
M Bar has moved a few times over the years. Damien Gordon and his crew have built out a similar-but-updated version of the sexy, exclusive urban ultra-lounge that was part of the original Castleberry Hill nightclub scene a decade ago. Hookahs are in the back; food's in the front, including tempura lobster tails, thin-crust BBQ chicken pizza, BBQ jerk turkey burgers, golden-fried catfish burgers, sloppy "Tuxedo Joes"; and crazy drinks like the Herradura Ultra Anejo tequila/Cointreau/Hpnotiq/fresh kaffir lime syrup "Face Down In A Mason Jar" are at the bar, obviously. But the best part? Maybe the graffiti-style bathroom art, which features a showering female behind a steamy glass wall.
My Parents' Basement
Combining a restaurant, a craft beer bar, and a comic book shop, MPB is nerd heaven. Started by three heroic friends as a Southeast-touring pop-up shop, it provides new, rare, and collectible comic titles (The Incredible Hulk, Fight Club, etc.), small plates of nostalgic snacks like toasted CBJB (cashew butter, jelly, bacon), craft sodas, a sturdy selection of craft beer (14 local and 15 elsewheres), and oh yeah, and there's a free video game arcade.
My Parents' Basement
123456
Neighborhood/Location
Avondale Estates
Description
Combining a restaurant, a craft beer bar, and a comic book shop, MPB is nerd heaven. Started by three heroic friends as a Southeast-touring pop-up shop, it provides new, rare, and collectible comic titles (The Incredible Hulk, Fight Club, etc.), small plates of nostalgic snacks like toasted CBJB (cashew butter, jelly, bacon), craft sodas, a sturdy selection of craft beer (14 local and 15 elsewheres), and oh yeah, and there's a free video game arcade.
Huge Cafe
So an actual marketing company opened a coffee shop at their offices for anybody to patronize. A bold move -- like ordering the Venti Sumatra at Starbucks! But instead of Pumpkin Spice Lattes™, they're treating it properly by deploying coffees made using Japanese drip-brewing towers (imagine coffee treated like absinthe), beans sourced from ATL-based java-roasting company Brash, and the creative juice of DJ Karl Injex (from the Sound Table), who brought in Chef Mihoko Obunai (formerly of Repast) to make you ill bagels for breakfast, lunch bento boxes stocked with pork belly steamed buns, special house-created Sublime Donuts desserts (S'MORES DONUTS!!!), Sriracha popcorn, and more.
Ponce City Market's Central Food Hall
Jia (a Peter Chang acolyte comes into his own, awesomely). W. H. Stiles Fish Camp (also known as "Dub's," from Anne Quatrano -- the Godmother). H&F Burger (Holeman & Finch's legendary late-night, bar-only offering has its own home). Hop's Chicken (Linton Hopkins' version of chicken and biscuits). Brezza Cucina (from chef kings Jonathan Waxman and Adam Evans -- coming soon). SO. MUCH. TERRIFIC. FOOD. And it's not even finished yet. For now, get to the old City Hall East building and eat everything.
Kafenio
This southwest side spot wants you to get your Greek on with all-day breakfast, ground lamb/beef burgers, and other Mediterranean food, plus beer (Bell's Two Hearted Ale, Left Hand Milk Stout, Victory Golden Monkey), and wine, Greek pastries, cakes and cookies, all in an old Downtown brick building with funky vintage furniture, like an orange felt couch, blue velvet-upholstered chairs, and framed drawings of Muppets, obviously.
Burn Social Club
With a strict cocktail attire dress code, Burn lets you in through Czar Ice Bar, but gives you a little more exclusivity. It's got fancy martinis, house cocktails, a wide selection of bourbons and whiskeys, margherita flatbreads, sushi, and lots of other hotness beneath a ceiling with fire graphic tiles and a soundstage.
Revival
Southern dishes served family-style is the specialty of Kevin Gillespie's newest restaurant, which sits in the grandma's house-like space in Downtown Decatur where Harbour House Pub used to be. The sweetest move on the menu is the all-inclusive option: it's $49 per person, and gets you one table entrée (fried chicken, grass-fed beef and pork bacon-wrapped meatloaf, spiced Mississippi catfish in low-country tomato gravy, etc.), and one order of hors d'oeuvre, relishes, trimmings, Gillespie family iron skillet cornbread, tea, coffee, and a dessert -- possibly the toasted vanilla pound cake with peach fool, which your family will probably say without realizing they were talking about the pudding-like Southern dish, and not simply telling you their favorite fruit.
Bar Margot
Mad mixologist-scientists Paul Calvert and Greg Best, along with Ford Fry and former Park 75 chef Robert Gerstenecker have created a cult at the Four Seasons with their "funky community lounge" (wait, at the Four Seasons?!!?!), where you'll find cheeses, iced oysters, jamón serrano, raw scallops, pickled GA white shrimp, crab-fried rice, and fresh handmade pasta. It goes without saying that BM is also turning out sweet cocktails, too, so we'll just say, try the tequila/Pimm's/ginger ale/lemon/Punt e Mes vermouth "Beggar's Banquet," which ironically is a fundraising event you might get invited to attend, depending on whom you support for 2016.
Staplehouse
Staplehouse is a communal dining monument, born out of a 10-person dinner party that Chef Ryan Hidinger (Bacchanalia, Floataway Cafe, Muss & Turner's) started with his wife Jen after he was diagnosed with cancer, all to help provide financial support to local restaurant employees with health emergencies. He and his partners, including former Empire State South chef Ryan Smith and Hidinger's sister, Kara, who are married, created what is now known as The Giving Kitchen for that cause. You can support it by getting a reservation via inventive dinner ticketing (not reservation) system Tock, for one of 40 seats at each dinner in the intimate, over-100-year-old brick building.
Marcel
So Ford Fry… this guy is obviously not human. He's got yet another new spot for the classiest of cow-eaters -- a European-style steakhouse with high-class décor and walls covered with drawings of old boxers (pro fighters, not the silk joints you've had since someone told you years ago that was a good idea) -- that just hit the west side. It's fancy as all hell. How fancy you ask? It's got a 42oz porterhouse for $165, $110 beef Wellington that requires 24-hour notice, a $138 plateau de fruits de mer (raw and cooked cold shellfish platter), and drinks that are probably worth every penny of their hefty price.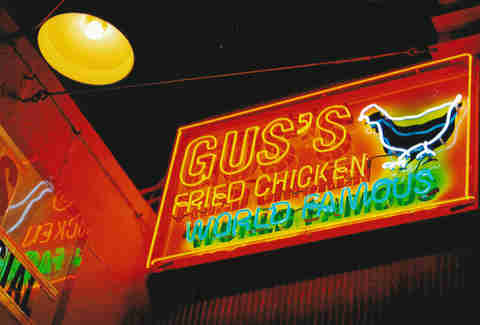 Gus's World Famous Fried Chicken
The hot-and-spicy fried bird recipe was born and sold in Memphis before it arrived Downtown at unbelievably cheap prices -- under $10 for a spicy, crispy, wet-batter-fried breast and wing, with two sides that could be beans, fries, mac & cheese, or many other choices.
Dolce Italian
The chef, Paolo Dorigato, has worked at two famous NYC restaurants: Cipriani Wall Street and Le Cirque (the Vegas version of the latter even has a Michelin star). That just means you can trust the Trentino, Italy-born cook with simplified Italian classic dishes, from handcrafted pastas to polenta meatballs, seafood risotto, and specialty pizzas prepared Neapolitan-style for guests in the mid-century modern, 150-seat communal dining room, and the 50 seat wraparound terrace outside, perfect for al fresco dining while overlooking Buckhead Atlanta stores and sipping Aperol spritzers.
Ray's Rio Bravo
The guy behind local restaurants like Ray's on the River, Ray's in the City, and Ray's at Killer Creek has brought back his '80s-era Tex-Mexstaurant due to popular requests from longtime customers. It's just down the street from Ray's on the River and has old favorites like brisket tamales, bean-free Texas chili, and baked shrimp in jalapeño-garlic breadcrumbs with a spicy kick you can totally use as an excuse to order a margarita pitcher.
Little Trouble
Hidden in a nondescript industrial building, inspired by ultra-neon visions of Blade Runner and Big Trouble in Little China (greatest movie ever!), and brought to you by the Victory Sandwich Bar gang, Little Trouble is an instant classic where you'll find amazing Thai cuisine like fried crab dumplings, steamed beef and pork buns, shishito peppers, and hot ramen soups (also don't miss its $1 meat skewers special from 5-7pm on weekdays). Drink-wise you can down a Champs-Élysées (cognac, lemon, green chartreuse), beers like Wild Heaven's Emergency Drinking and Creature Comforts' Tropicália, a variety of sakes, or highballs such as the spicy shochu/tequila/habanero/bitter lemon soda "Jade Monkey."
Sign up here for our daily Atlanta email and be the first to get all the food/drink/fun the ATL has to offer.
Mike Jordan, Thrillist Atlanta's founding editor, is starting to think Ford Fry is an actual Ford automobile instead of a mortal man. Tweet any photo evidence that he's a robot to @michaelbjordan.