Everything You Need to Do in Atlanta This Weekend
Good news: the weekend is almost here! Bad news: the weekend is short, and since you're probably not a billionaire, you'll be back at work before you know it. So what exactly will you do with the few days of soon-expiring fun you have in front of you? Own them like your boss owns your soul with this list of great things to do, drink, and eat here in ATL between now and Monday. On this Labor Day weekend, the plan includes geeking out at Dragon Con, reading up at the Decatur Book Festival, and an event called BAE WATCH. Seriously.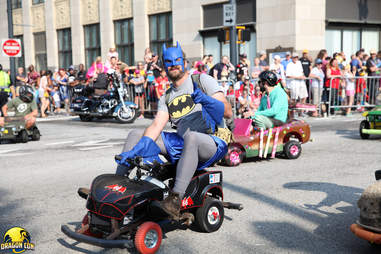 Dragon Con

| Dragon Con Photograph
Become a better writer, or a better reader, and read stuff written by the great writers you'll meet at Decatur Book Festival, the country's largest independent book festival. You'll hear from National Book Award winner Jacqueline Woodson, and watch cooking demonstrations from heralded ATL chefs Todd Richards and Ted Lee, taken directly from the classic cookbook The Taste of Country Cooking by the late Edna Lewis… Do you really need any more convincing?
Or anything else your scaly, fire-breathing, cosplay-participating ass can think up: it's Dragon Con time! That means four days of beautiful mass-weirdness, and this year DC has partnered with Joystick Gamebar, which is bringing a free arcade to the event where you can play a dizzying array of classics including NBA Jam, Mortal Kombat II, Street Fighter, Gauntlet, Ms. Pacman, Galaga, T2 Pinball, Joust, The Simpsons, and Gauntlet 2.
It's called BAE WATCH, and for that reason alone you've gotta love it. Hot bodies in swimwear will be there, regardless of pool water, and there'll also be watersports, food & drinks, and assorted DJs including DJ Mars and WERC CREW. On top of that, ATL-based internet station ABL Radio will be broadcasting live during the event.
There's really no other way to describe the annual House in the Park event. It's a lot of people, loud house music, and it's in the park. It sounds simple, but sometimes simple is the only way to describe something this fantastic.
Sign up here for our daily Atlanta email and be the first to get all the food/drink/fun the ATL has to offer.
Mike Jordan was Thrillist ATL's founding editor, and he also founded basketball, and invented the art of acting in boxing movie remakes. Follow him on Twitter -- he has good tweets!