Appliqued art you gotta ask for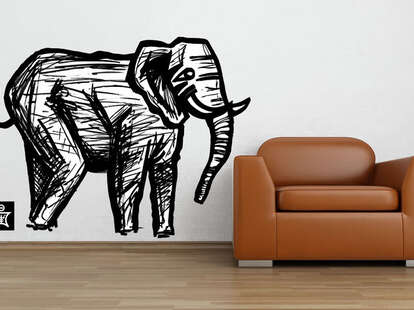 Any time a friend makes a request you're in for trouble, whether they're asking you to help them move, or calling Casey Kasem on your birthday, and letting all America know you just looooove Fernando. And also ABBA. Taking friends' requests from Facebook and making art: THE_STUDIO.
From the murky depths of NoLibs, the intrepid artist behind T_S creates thick, jagged line-art renditions of people's favorite animals, which he sketches from memory onto flip-chart paper before digitizing 'em/printing 'em onto adhesive wall decals, a concept hatched when he got loads of responses from a Facebook posting of "What's your favorite animal?", the third-most important question asked that day behind "Will you help the victims of Darfur?" and "OMG Megan Foxs thums r sooo gross rite?!" Current offerings include pugs and penguins and quasi-Neolithic renderings of wilder animals like 'roos, aardvarks, and ligers (damn right), but he's also taking requests for any animal you can think of, so long as you're ready to explain why you want it and what exactly it is, in case you request something fanciful like a cthulhu, a kraken, or a "dog", which sounds made up. He's also offering non-animalia tweaked photograph prints like a grayscale trash can and flower tinted red, orange, cyan, yellow, and aqua, the feather/skull/snake Shaman Skull, and the Kiss Of Death -- a lipstick-smeared skull, also why Skeletor lost control of Snake Mountain and is now sharing custody of Panthor.
For those who like to wear their art, T_S totes more than a 100 tees and dude's also doing custom paintings, with all the work done in the same style, a policy that ABBA agrees with wholeheartedly.