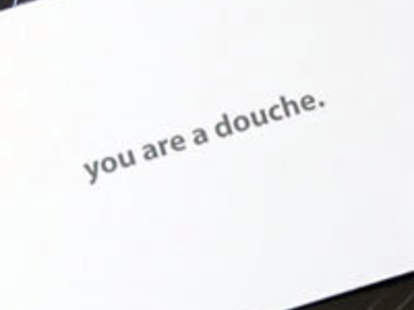 You feel the urge to call someone a douche over one million times a day, but too often your tongue is held by restraint or fear. Now, instead of saying it, you can show it, with a crisp set of "you are a douche" business cards. The y.a.a.d. was hatched by Orange32, an Islandia, NY-based design agency that typically services big media (MTV), big clubs (Crobar), and big, sexy patoots (J-Lo). Bored, and themselves tired of douches, they created this sturdy, glossy card with a simple message in understated print (lowercase, with no exclamation point, the use of which ironically would render you yourself a douche).People you can hand your y.a.a.d. to:
That drunk at the New Year's shindig who's loudly proclaiming his love for scoootch
That drunk in your office who's pretending to be your boss
People who make a big deal out of liking the Red Sox
Crappy bartenders or waiters
Guys who're constantly whipping out insult-free business cards
Your girlfriend, so that she can hand it to would-be suitors, just to be certain she's not sending mixed messages
Cops
Deaf douches
Guys who consider it their job to "introduce a stream of water into women's bodies for medical or hygienic reasons"
There's nothing on these cards that'll lead back to you, or even Orange32. The backside's just black background, subtly augmenting the original point: "Outside of being a douche, you are nothing". At just $5 for a pack of 25, it's a message you can't afford not to send.