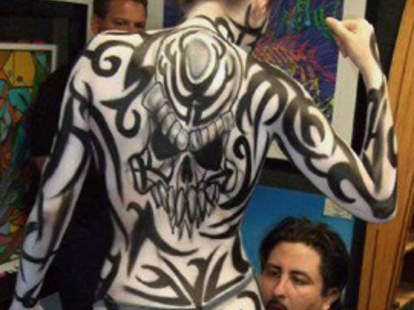 Normally, the things that'd lure you to an art galleries are free Merlot, flash thunderstorms and the opportunity to have your bodily functions praised as social commentary. Finally giving you a serious reason to go -- painted racks -- ART Undressed.
ART's a touring erotic art exhibit/party featuring 250 works from the top dogs of the Erotic Signature's 2009 Erotic Art Competition (which gather horny oeuvres the world over), and perhaps more importantly, live nude art/performances going on everywhere you dare look. There'll be fine-art-type stuff like B&W pics of really fit, really nude ballerinas on pedestals, live body painting, live nude photography, and work by Perego, a dude who creates "body impressions" by covering subjects in crazily colored paints, wrapping them in a canvas, and unwrapping to reveal Rorschach-like hotness -- you can even strip down and volunteer as his muse, though he might choose to just leave you as a giant painted burrito. There'll also be scantily-clad fire dancers, burlesque, a topless show called "Technosluts" that involves a bathtub and a lot of rubber, and demos of both Western bondage techniques and performances of the Japanese bondage art of "Shibari", which involves ornate, decorative knots tied on sexually strategic points, and translates to "beautiful bondage", which oughta convince your girlfriend.
There's an opening party tonight at Station 55, with a screening of the short flick "Virgin Wool" (involving a hot chick and a sweater fetish); the show'll wrap Sat night at Electric Pickle with a dress-up party called "The Good, The Bad, and the Kinky" complete with DJs, erotic vids, bondage theatrics, and a latex fashion show -- though if you were actually focused on wearing your rubbers, you probably wouldn't be scampering into galleries in the first place.