As badass as typical Southern pastimes are (muddin', boggin', swampin', wheelin', braffin', 4byin', "g"-droppin'...), what truly sets Southerners apart is their unwillingness to engage in any of these activities sober. Channeling the South's culinary badassery in that same grand, besotted style, Picán
Picán's a 5,600sq ft ode to upscale N'awlins fare and the single-barrel, small-batch bourbon that fuels it, offering plantation-chic setting options in the dining room (woven chairs, burlap-swathed chandeliers), around the 30ft limestone/crushed shell bar, and in the private, rentable Bourbon Room -- stocking 96 "exquisite" whiskeys, and soon, one "exquisite" you. The menu's overflowing with heartiness like buttermilk Southern fried chicken w/ Gouda mac n' cheese, braised short ribs w/ jalapeno creme fraiche, and the collard green-flanked bourbon/molasses "lacquered" deck duck. Back to the booze: the list features a host of rarities (Henry McKenna Special, Distiller's Masterpiece 20yr, etc), while specialty cocktails include a Bulleit/Tia Maria Revolver, and the Dubonnet Rouge-splashed Elmer T. Lee "Soul Kiss", also an Olivia Newton-John album, which was a huge hit in Mexico under the name Olivia Newton-Juan
Recommended Video
Sriracha Bacon Onion Rings Bring the Heat Like Never Before
For those who like to chase their whiskey with more booze, there're 20+ vinos by the glass, and 14 beers, from Scrimshaw Pilsner to Racer 5 -- enough sauce to get you primed for yet another typical Southern pastime, appearin' on COPS.
Previous Venue
Next Venue
Venue Description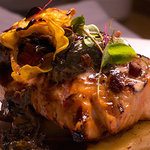 1. Picán
2295 Broadway, Oakland, CA 94612
For a little bit of Kentucky in Oakland, go to Pican. The upscale Southern dining room has more than 100 bourbons in its collection, and perhaps the best way for the uninitiated to get their toes wet is with one of the bourbon flights. As for food, the menu features the best of Low Country cuisine with entrees like jambalaya, crawfish mac & cheese, and rabbit meatballs.