A local tee empire in the making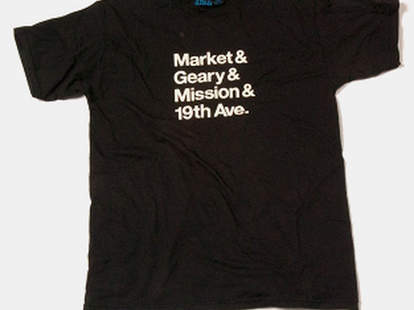 Taking a local product and going national makes for a great story, unless those local products are made of heroin. Or worse, blue cheese. Ugh. Taking local shirt-slinging national without all the track marks & Waldorf Salads, There There.
The first expansion play from the resident tee-makers behind Oaklandish, There There is a just-dropped, locally driven line of short-sleeves that uses/supports grassroots artists in 13 different cities, and finally gives the Oak dudes an excuse to do up San Francisco, because, face it, not everyone is Pat Burrell. There're six SF shirts in all: two are done in-house by TT including "SF Streets", which sports the Helvetica'd names of four major thoroughfares (Market & Geary & Mission & 19th Ave.), while the other four cotton wearables -- imagined by a graphic designer from CAS, an illustrator from Oakland, and a pair of sidewalk painters -- include awesomely sketched SF iconography (Golden Gate/Bay bridges), but not awesomely sketchy SF iconography, though 6th Street would look cool in charcoal pencil. There's also upper-torso-worthy steeze from (gasp!) non-Bay Area cities, like Portland's drawing of a Sasquatch riding a bicycle and wearing a PDX headband, Eugene's screen-printed lumberjack surfing on a mighty fir that reads "Oregon Wave Logger", and a "Faces of Denver" tee that features John Elway, Trey Parker/Matt Stone, and Tim Allen -- a man whose arrival always means it's Tool Time.
The goal is to expand to 25 cities by the end of 2011, and in markets with online success/retail promise, to add a mobile retail element similar to the kegerator-equipped 1966 Cortez Camper Van they've got roaming the streets of Oakland, also a great place to find lots of local product. Dudes over there just looove blue cheese!