The worst is discovering something doesn't quite fit the way you envisioned, like the couch that looks great in-store but's too big for your living room, and Shawn Bradley. Making dress shirts that fit just right, Commonwealth Proper.
Tired of seeing his clients and colleagues wearing expensive buttondowns that looked downright "blousy" at the waist, CP's lawyer-from-Philly founder teamed with local tailoring consultants to design an affordable off-the-rack shirt with a slimmer cut at the waist and a shortened front and tail, effectively cutting down on bunching above the beltline and allowing for a neater untucked look, in line with their slogan, "Fitted Shirts for Grown Men", but don't worry, they'll totally sell you one anyway. They're all handmade locally with fine-milled cotton, and feature Borelli pearl buttons and double-reinforced, fused collars that remain crisp after washing, which is good, because the only starch you keep around the house says "UTZ" on it. The "Weekday" collection includes office-appropriate designs like light blue broadcloth, lavender oxford, and white pinpoint, while the "Weekend" line displays a bit more steez, from herringbone to flashier stuff like dual-textured white-on-white stripes with blue, green, and orange paisley hiding inside the cuffs and collar, and a white number whose blue interior collar/cuffs're emblazoned with a hypnotically intricate teal, black, & white design, and is completely constructed from sailcloth -- leaving you to curse that slim cut and shortened tail while going nowhere in the middle of the Atlantic.
Recommended Video
This Fluffy Blanket Can Be Turned Into A... Giant Sweatshirt
A trunk show at Matthew Izzo tomorrow will also feature four new t-shirt designs (including the Fightins-inspired heather-red "World Champs" crewneck), DJs and live performances, and enough comp'd Bluecoat Gin to give you the breathtaking athletic grace of a 7-foot-6 Mormon.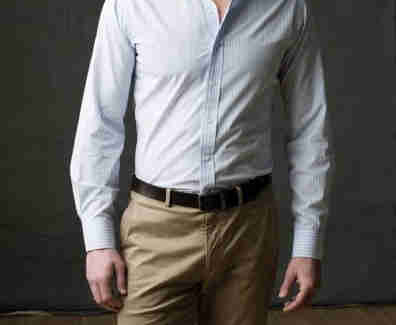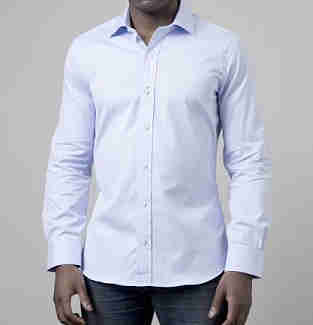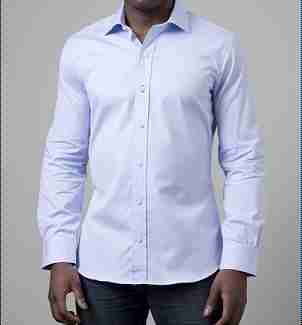 Previous Venue
Next Venue
Venue Description
1. Commonwealth Proper
151 N 3rd St, Philadelphia, PA 19106
Tired of seeing his clients and colleagues wearing expensive buttondowns that looked downright "blousy" at the waist, CP's lawyer-from-Philly founder teamed with local tailoring consultants to design an affordable off-the-rack shirt with a slimmer cut at