A gastropub for the Curtis Center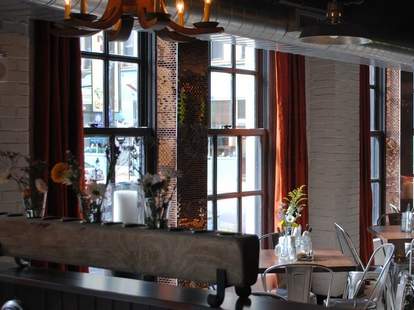 Having dual identities can provide for some pretty impressive transformations, like Bruce Wayne becoming Batman, or Brandon Routh becoming relevant for the briefest of instants. Sure to eventually tell Vicki Vale it transitions from a cafe by day to gastropub by night, Cooperage Wine & Whiskey Bar.
Paying homage to its barrel-making namesake with a wood-heavy interior featuring workshop-like table and bar seating, Cooperage is a mashup of 1) a breakfast cafe serving fresh-baked pastries and coffee, 2) a wine/whiskey bar pouring specialized hooch from 'round the globe, and 3) a gastropub offering bistro dishes with a southern influence, meaning your dinner will be extremely well-rounded despite never having time for no book learnin'. The menu doles out apps including a spicy bean & beef chili topped with PA Noble cheddar served with crema & buttermilk biscuits, and spicy pork nachos topped with pineapple salsa, jalapenos, and Sriracha, as well as mains like a Colorado lamb coated in granola and served with bread pudding and a raspberry compote called the "Hippie Chop", also a great thing to yell as you cut a Bonnaroo bathroom line, while karate-chopping someone in his ugly face. The booze, a collection of vino and brown stuff from every corner of the globe, includes Scotch and Irish whisk(e)ys, white wines from Germany, Spain, and France, reds from Italy, Australia, Cali, and Spain, and a selection of bourbons like Old Pogue Master's Select, which would earn the approval of the original Old Pogue, Shane McGowan...but then again, what liquor wouldn't?
Proving there're other things to do before noon than drink, a lineup of small bites are available for breakfast and lunch including a chocolate cherry scone and carrot ginger soup, aka, the limpid pools known as Jimmy Olsen's eyes once fickle fame has dropped Brandon Routh back into his league.