The world of book retail's like a jungle, where e-book stores are the lions, and real-world book stores are the deers that're badly injured and bleeding everywhere. In order to survive said Amazon (!), art-scene outpost Domy has evolved into Farewell Books, stocking a more accessible selection of new and used tomes with a larger focus on fiction & poetry, all stocked on floor-to-ceiling wooden shelving designed by the guy who did the Yellow Jacket Social Club. Helping to loosen the pockets of Domy "customers" whose only financial contributions were tips for free booze at art openings, 50% of the inventory's now made up of used selections of classic beats like Ferlinghetti and current literary darlings like Roberto Bolano. The non-fiction stock's heavy on the pulp, with stand-outs like a treatise on the history of hardcore music and an expose on the high profits made by drug traffickers in the US and Mexico. And for those that prefer their words at a minimum, they're still rocking the city's most comprehensive collection of zines and graphic novels like The Book of Mr. Natural, a collection of lewd R. Crumb comics where it wouldn't be unusual to see a character pissing on the stairs. No lion.
Recommended Video
Tijuana's Lucha Libre Is Like Watching a Live-Action Comic Book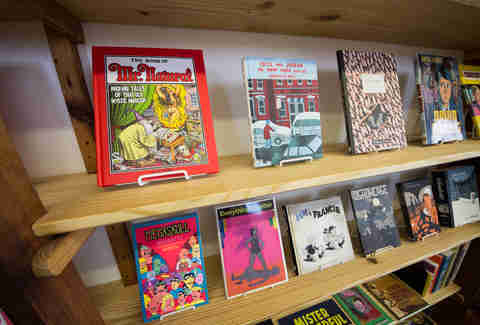 Previous Venue
Next Venue
Venue Description
1. Farewell Books
913 E Cesar Chavez St, Austin, TX 78702
Old art-scene outpost Domy has evolved into Farewell Books, a progressive used and new bookshop hosting weekly events (OMG let's make new friends!), readings, and just an overall awesome vibe.