Sonya Highfield Photography
Fall fashion season is here! But so is fall football season. And fall you'd-probably-rather-do-anything-but-shop season. Instead of hopelessly hopping from store to store looking for a perfect pair of pants and a slick button down (or ordering online hoping that those dudes actually fit when they arrive), give Lord & Taylor Boston a shot. They've got everything you'll likely need under one roof, plus a totally refreshed men's section. Check it out below and get to the store pronto.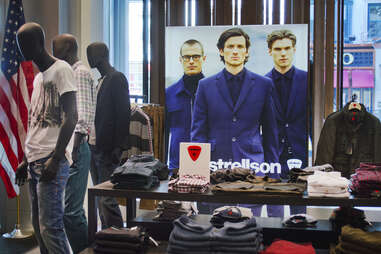 They expanded their designers like crazy
They recently did a huge redesign on the whole men's floor to bring a slew of new designers into the fold. The men's square footage increased by 40% and there's a whole stack of new brands like Hudson, Theory, Diesel, Michael Kors, John Varvatos, and way more (read on for that "way more" part).
They've got the US exclusive on European designers
As part of the new brand expansion, the store has made serious moves on a few select European designers. They're the only US Deparment store to carry Bugatti and Strellson, Swiss and German lines that combine high fashion with active wear, and have hooked Lord & Taylor up with looks that no one's ever seen before. These duds can definitely up your layer game, which is a game you probably don't play but totally should.
There's a ton of designer jeans
In a world where holes are trendy, and pants are supposed to fit like a damn glove, there's nothing quite as important as selecting denim for the colder season. And with new seasonal selections from Seven, True Religion, G-Star, and more, the new men's store has you covered thrice over. Unless you think pants go on inside out like that pic up there -- then you're on your own.
You can look as fly as JT
The boy band extraordinaire turned solo artist turned big screen star has his own clothing line in partnership with lifelong friend Trace Ayala. Head to the William Rast section of the store, (exclusive to Lord & Taylor) and you'll be bringing sexy back... to your house... in the form of jeans and a cool jacket.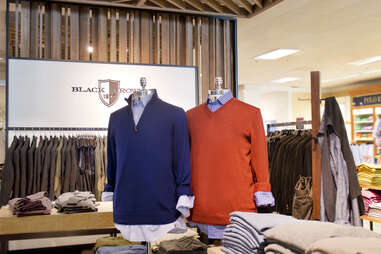 The lodge-like exclusive brand section will make you look regal as hell
Their exclusive Black Brown 1826 collection has its cashmere and blazer game on lock. And that's a good thing, because autumn is here and the slacks + pastel button-up combo looks way better with a super soft sweater on top. As an added bonus, the Black Brown 1826 section is decked out with its own woodsy look, which'll remind you what that sweater is gonna look like at a lakeside cabin.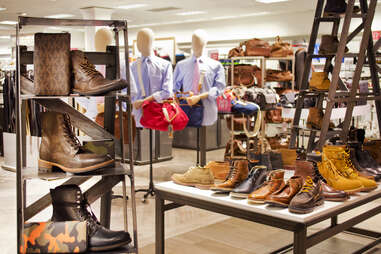 They've got the designer boot hookup
Because any wardrobe rethink would be at least a couple feet short without a proper pair of designer boots, take a look at the solid spread of shoes from the best names (they doubled their feet offerings alone with the redesign). Pictured up there, Diesel boots will bring an appropriate look for those days spent traipsing through corn mazes and pretending you're an axe-toting lumberjack.
They rep Michael Kors in a big way
In addition to the rest of the top-notch designers, the new men's store has way more Michael Kors now. On top of accessories, bags, and slacks, L&T is also the only store to carry the slim fit shirts. Buy 'em early before that winter weight forces you into annoying regular fit shirts.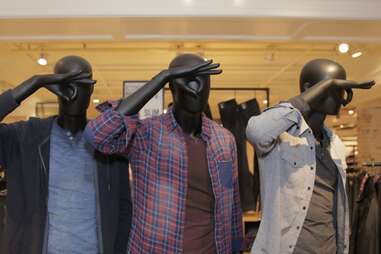 You can score inspiration for your new passion as a backup dancer
Once you've done a round of the store filling your arms with 47 new checker-pattern eye-catchers, you might be wondering how else you can look awesome. Well, just look to the mannequins, folks. These particular fellows are showing off how to properly wear an old-timey hat while holding a particularly suave synchronized dance move. A fun game? Try standing next to them in-store to see how long it takes fellow patrons to notice ya.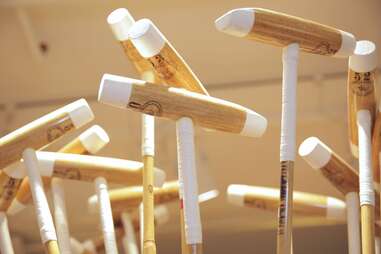 You can invite your buds for a pickup polo game
With all the "brand spankin' new" talk, it's easy to forget the standby brands Lord & Taylor has always been known for; like Polo, Lacoste, and Calvin Klein. But head over to this section to spy some quirky display items for the sports gentleman in everyone. These regulation polo mallets are just begging to see if you even know how to use a regulation polo mallet.
You can get yourself a finely tailored suit
As implied by the name (albeit with a different spelling), Lord & Taylor can also offer a custom look. Just stroll through the suiting area and then bring the selections back to the tailoring section; the store's in-house fitter can hook you up with adjustments that'll hang perfectly. It's finally time to live out those turn-of-the-century fantasies with your very own tailor, and it's time to also finally get a suit that fits you appropriately.

And to top it all off, if you can't get to this store location, you can gear up for autumn at any of the other Lord & Taylor locations right near Boston in Natick, Burlington, South Shore, and Rockingham. So, are you ready to get dapper? See some of those clothes you could be buying in action right now: