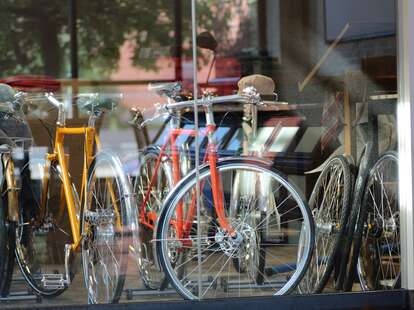 Despite the media foreplay dragging on for months, do-everything Detroit darling Shinola and its flagship Detroit shop are finally ready for the sex! you to check them out in all of their unbridled glory. Or, at the very least, ready for you to check out this story of us checking them out in all of their unbridled glory.
In case you're not familiar, Shinola's all about the all-American gear, from watches like this one, to bicycles and goods made from Horween leather, like wallets, backpacks, and totes.
They've taken over a former Jeep warehouse and redesigned the space to fit their needs, but've left original details (and taken off original dirt) like these massive skylights that take up much of the bike assembly area.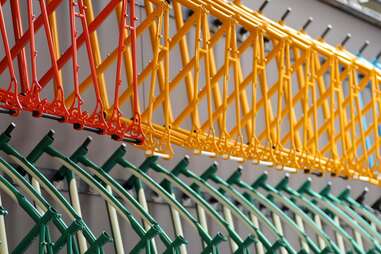 Speaking of which, there's an entire work area devoted to showing off the assembly and welding of their Runwell, Bixby, and lady Bixby bicycles, all of whose frames are displayed in a multi-hued array of colors above. Sooo many choices.
Here's the Runwell, pictured in Shinola's office space/showroom/watch-lab. Fear not, this PYT will be making its way to the store, with or without its awesome wall-hanger/bookshelf.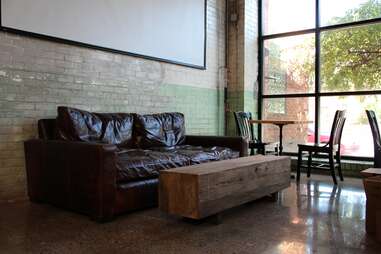 Back in the store, this couch is a great recovery spot for when decision fatigue about which color your Runwell will (Runwe'll?) be set in. It also looks out onto the patio, which is fully open to customers & people looking to knock out a bit of work in the sunshine.
Or cozy on up to the antique counter and chairs (they've been cherry-picked from places like the Detroit Antiques Mall and Royal Oak's Heritage Co. II) to contemplate your order...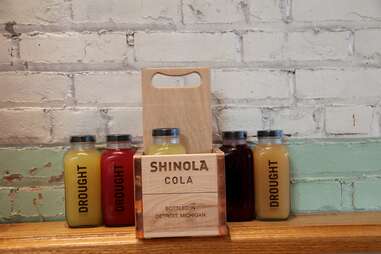 ... at Drought (!!!), which is expanding its Eastern Market & Plymouth presence inside the shop & will be (wo)manning the juice bar stocked with its very own cold-pressed creations, like the apple, beet, carrot & lemon, the pear & cayenne, or just the apple, if Mott's of ingredients worry you.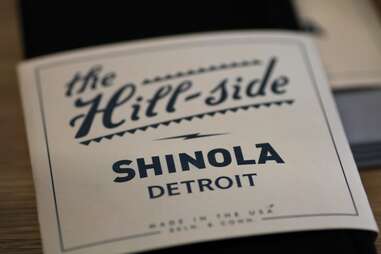 Other like-minded collaborators & in-store sellers will include local companies like the Smith Shop and Detroit Denim Co, with an additional and rotating presence from other proudly made-in-the-USA peeps like The Hill-Side and Steven Alan, who have plenty of gear that's good foreplaying in.