Quite possibly Europe's first popcorn shop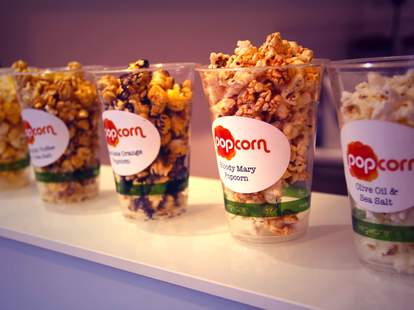 Although pop-up shops normally disappear after a couple of weeks, this one's here to stay -- touting itself as "Europe's first popcorn shop", Notting Hill's Pop sports a small, white, colour-splashed space that almost exclusively vends inventive variations on cinema fuel
They'll be rotating flavours like Bloody Mary, English toffee & sea salt, chilli & lime, and mature Cheddar (too dignified for a cheesy joke), plus seasonals like mulled wine & gingerbread. And if you're seeking something in particular, they'll even do bespoke batches, like a particularly unhealthy creation studded with pork scratchings

Fancy something bigger? Then pick up a solid "popcorn slab" of chocolate-enrobed sweets, nuts, cookie pieces, and marshmallows, all housed in an original Panavision film can, suggesting you might want to take 2

To drink, they've imported a range of hard-to-find US softs (grape soda, root beer, vanilla coke, etc.) and they're even planning on scratch-making their own fizzies from raw syrup "as soon as the weather gets better", which might take just a bit longer longer than two weeks.