Downtown's posh boutique bike shop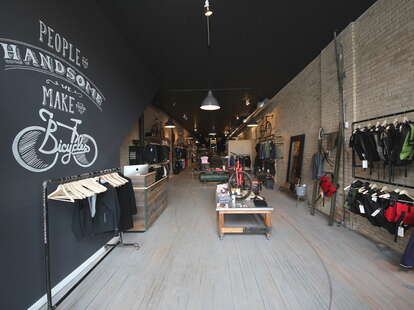 Mpls bike-maker Handsome Cycles' slogan is "people are handsome, we make their bicycles", so stop by their debut brick and mortar in the North Loop and enjoy a pleasant fiction
Their vast, warehouse-style storefront has an apparel shop in the front, a bike build-center in the back, and skid marks all over the floor. Oh, and consider the gauntlet thrown down, Portland
The cycle-centered streetwear store slings brands from MN's own TWIN SIX Alternative Cycling apparel to the entirety of the hard-to-find Levi's Commuter line
...plus some appropriately handsome t-shirts of their own.
They even sell ladies
Although they've got all the stock rides you've seen on HandsomeCycles.com (Shop Bike, XOXO, Devil, etc), you likely know everything about biking and should build your own, which takes a week after you pick out all the parts.
Step right up, Joey, because you're about to enter the "Cockpit", which is of course where you'll choose stem, bars, grips, shifters, and brakes from brands like Velo Orange, Brooks, and Portland Design Works
Then it's on to the Drivetrain table, where you'll choose among Shimano, Sturmey Archer, and SRAM for cranks and gearing set-ups. After deciding on fixed, single speed, or some ungodly amount of multiple speeds, hit the Wheelsets station to pick out rims, hubs, and tires
Next comes pedals, seat posts, and seats (highly recommended!)
Lastly, thrown on the delicious toppings of the bike world: racks, pannier bags, baskets, fenders, and kickstands
Wait a week, and BAM: you'll have a bike so handsome, it won't even matter if you're not.